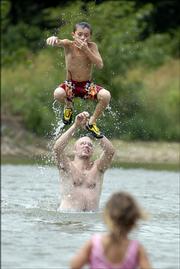 Americans are ready to celebrate their country's birthday a little early, making it a four-day affair for some.
This weekend is expected to be sunny, hot and mostly dry with lots of people in the usual places as the Fourth of July nears.
"We're expecting a real big weekend; maybe our biggest," said Lee Kennedy, manager of the Clinton Lake Marina. "The water temperature is around 80 degrees, so it's beautiful water."
Thousands of people will travel over the highways headed toward area lakes and parks or to the backyards of friends and relatives to celebrate the holiday.
Even where fireworks are banned, such as in Lawrence, it shouldn't be difficult to find a nearby public display.
The Jaycees will sponsor their annual fireworks show beginning at dusk Tuesday in Burcham Park along the Kansas River.
There is no admission for the event. The Journal-World is sponsoring the buses that will transport people to the park. As in previous years, the buses will make a loop of downtown parking lots to take people to and from the park.
An estimated 40.7 million Americans will travel 50 miles or more from home this weekend, according to AAA. That is a 1.2 percent increase from last year, despite this year's higher gas prices.
The national average price of a gallon of gas is $2.87; in Kansas it is $2.80. The Lawrence average is $2.78.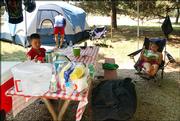 Beachfront properties top the list of favorite destinations this holiday as 22 percent of travelers plan to take a water-based vacation.
Those traveling overnight and needing a place to stay may have a tough time finding a vacant hotel or motel room. More than a quarter of Fourth of July travelers plan to stay in a hotel or motel, according to AAA.
The major starting period for travel by vehicle began after work Friday, Kansas Highway Patrol Lt. John Eichkorn said.
"We expect most people to take advantage of a four-day weekend," he said. "It is going to be a busy weekend."
Kansas Highway Patrol troopers will be especially watchful for impaired drivers, Eichkorn said. Fourth of July activities are mostly outdoors and that means alcohol will be served at many of them, he said.
Winter Weather
Winter weather information
Last July, during a shorter, three-day holiday weekend, there were 43 alcohol-related vehicle accidents in Kansas, causing 26 injuries and one death, according to Highway Patrol records.
The weather should cooperate with the celebrations, according to Matt Wolters, meteorologist with the National Weather Service in Topeka. Temperatures will be in the 90s, he said.
A weak frontal boundary is expected in the area Sunday, Monday and Tuesday, and that could bring some rain.
"It doesn't look like it is going to wash out the entire three days," Wolters said. "It should leave most of the days dry."
June in lawrence
Month rainfall: 1.11 inches (4.52 inches below average) Year-to-date rainfall: 13.54 inches (6.11 inches below average) There were seven days with measurable rain. The most rain - 0.56 of an inch - fell June 17. The average high temperature for June is 85.3 degrees. The actual average high temperature this June was 89.0 degrees. We broke one record this month: the record low temperature on June 28 of 56 degrees. The previous record was 57 degrees in 1985. - Source: Jennifer Schack, 6News meteorologist
Area celebrations
Lawrence events
Monday ¢ International Institute for Young Musicians Piano Competition Finals, 3 p.m.-8:45 p.m. (semifinals 10 a.m.-7:30 p.m. Sunday) Lied Center, Kansas University Tuesday ¢ Fourth of July Fireworks Extravaganza by Lawrence Jaycees Burcham Park, 200 Ind. Fireworks at dusk with live music and food vendors The World Company is sponsoring the buses that will transport people to the park. The buses will make a loop of downtown parking lots to take people to and from the park.
Today ¢ Bonner Blast Second and Elm streets, Bonner Springs ¢ Fields for Freedom, a Healing Field Flag Display 5740 Merriam Drive, Merriam On display through Tuesday, ending with a fireworks celebration ¢ Spirit of Kansas 3137 S.E. 29th St., Lake Shawnee Events through Tuesday.
Sunday ¢ Fourth of July Celebration, Third and Missouri streets, Alma Monday ¢ Independence Day Celebration 301 E. Iowa St., Hiawatha Fireworks ¢ Perry Lake Assn. Fireworks Display Fireworks begin at 10 p.m. Parking lots east and south of the U.S. Army Corps of Engineers building ¢ Woodlands Independence Celebration 9700 Leavenworth Road, Kansas City, Kan. Also Tuesday.
Tuesday ¢ Fourth of July Celebration Citizens for Baldwin City. Live band and games, 6 p.m., east of Baldwin High School, near ball fields. Fireworks, 10 p.m. ¢ Fourth of July Fireworks Display Begins at dark. McLouth Sports Complex ¢ Fourth of July Celebration 14824 246 Road, Prairie Lake at Holton ¢ Fourth of July at Fort Leavenworth Fireworks on Grant Avenue at Merritt Lake ¢ Collins Park Parade 35th anniversary in Topeka ¢ Fire in the Sky 7710 Renner Road, Shawnee
Copyright 2018 The Lawrence Journal-World. All rights reserved. This material may not be published, broadcast, rewritten or redistributed. We strive to uphold our values for every story published.