With $20 and a lot of creativity, three Lawrence students created the futuristic Icelandic city of Gronn-vedsjoen.
West Junior High School eighth-graders Dylan Guthrie, Sam Walter and Dravid Joseph will submit their model Saturday in the Great Plains Regional Future City Competition at Kansas University.
"It's looking a lot better than I thought it was going to," Guthrie said Wednesday as the team scrambled to finish its work.
The contest challenges middle school students to create cities of the future on the computer and in tabletop models. More than 50 teams from across the state and the Kansas City area will compete. The winning team moves on to the national competition in Washington, D.C.
The Lawrence team used recycled supplies, including wood, cardboard food boxes and toilet paper rolls, to make their model. They spent about $20, mostly for paint.
Their city of Gronnvedsjoen, an oceanside urban space, is more than 150 miles from Reykjavik, Iceland's capital, the team said. The name means Green City in Norwegian, they said. The city features a desalination plant that turns ocean water into drinking water. There is a geo-thermal power plant that will keep the environment cleaner than would other forms of energy. And an underground tunnel, similar to the Chunnel, connects Iceland to the United States and Europe.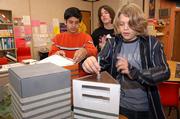 The students qualified for the team because they all scored more than 1,000 of 1,600 possible points on SAT tests they took in seventh grade, they said.
Some of the team members have participated in engineering fairs in the past. Some go to summer camp at Duke University for special programs. They have many interests, and this is one of them.
"It's a lot better than going home and watching TV," Sam said.
Dravid wants to be a cardiac surgeon. Dylan thinks he might want to go into marine biology or owning a guitar/music business. Sam said he thought it would be pretty cool to have a title like astronomical dark matter physicist. That might impress girls, he said.
But on Saturday, they'll be engineers.
The competition begins at 9 a.m. in the Kansas Union.
Robert Sorem of KU's School of Engineering assists with the event. Participation has grown steadily since the program started in Kansas two years ago with 20 to 25 teams, he said.
"It's a lot of fun," he said. "I don't know of any teams that have shown up and just gone through the motions. They want to win. They've put a lot of work into it."
Copyright 2017 The Lawrence Journal-World. All rights reserved. This material may not be published, broadcast, rewritten or redistributed. We strive to uphold our values for every story published.