People were screaming. Fire was roaring. And even though the burning building was Adam Hoover's own home, he wasn't scared.
"I don't think so. I think I was just working. That's what you call it," said Hoover, a Douglas County Sheriff's deputy who responded Oct. 7 to the deadly fire at Boardwalk Apartments, where he lived with his family.
Both Hoover and Deputy Jay Armbrister were recognized Tuesday by the sheriff's office for their efforts the night of the Boardwalk fire.
Armbrister, who helped pull an injured man from a smoke-filled stairwell and was later treated for smoke inhalation, received the department's second-highest honor, the Medal of Bravery.
Hoover, who helped pull injured people from the building after he checked on his family members to make sure they were safe, received the department's third-highest honor, the Medal of Valor.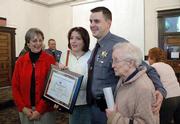 They were two of the nine deputies honored during a morning ceremony at the Douglas County Courthouse, 1100 Mass.
"These individuals exemplify the ideals of the sheriff's office," Sheriff Ken McGovern said.
Three people died in the Boardwalk fire, which prosecutors allege was set by 20-year-old Jason A. Rose. But McGovern said more lives could have been lost without the actions of people like Hoover and Armbrister.
On the night of the fire, Armbrister, a sheriff's patrol deputy since 1999, was helping train Hoover, a deputy since 2003 who recently had been placed in the department's patrol division. They were on the Kansas Highway 10 bypass west of Lawrence when they received the fire report, and Hoover quickly learned it was at the complex where he lived with his ex-wife and 8-year-old daughter.
"You could see the glow in the sky. It looked like the sun coming up," Armbrister said of the duo's arrival at the scene.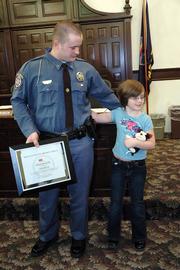 Shortly after arriving, he found a man in a stairwell who had jumped from an upper-story window. The man had bloody cuts on his stomach and couldn't get up because of injuries he suffered in the fall, Armbrister said.
Armbrister said he tried to move the man but couldn't. Two Lawrence Police officers, Todd Polson and Max Miller, helped him load the man onto a ladder and pull him to safety.
Hoover said he found his family, who had safely escaped. He let them get into the patrol car, then moved the family's car, which was parked outside the building and was close to being incinerated.
Then he set to work helping Armbrister and others carry fire victims to help.
"I know I was just following Jay," Hoover said.
The Lawrence Police Department has not yet announced any awards related to the fire for any of its officers, but spokesman Sgt. Dan Ward said nominations have been submitted to an awards committee.
Other officers honored
Other awards presented Tuesday by the Douglas County Sheriff's Office were: ¢ Detective Scott Bonham received the "Drug Investigation Commendation" for his work investigating the April 2004 shooting of a drug informant in North Lawrence. Six defendants connected to the case were convicted last year in federal court. ¢ Cpl. Steve Buchholz, who stopped 38 impaired drivers during 2005, received the "DWI Enforcement Excellence Commendation," given to the deputy with the highest number of DWI arrests for the year. ¢ Corrections officer Blake Winner received the "Corrections Commendation" for preventing a jail inmate from committing a "life-threatening act." ¢ Cpl. Clark Rials received the "Operations Commendation," for subduing a combative suicidal person without causing any injuries. ¢ Three detectives - Cpl. Lyle Hagenbuch, Patrick Pollock and Lt. Doug Woods - received the "Criminal Investigation Commendation" for investigating the November 2003 killing of Carmin Ross. Her ex-husband, former Kansas State University English professor Thomas E. Murray, was convicted of murder last year.
Boardwalk Apartments Fire
More on the Boardwalk Apartments Fire
Copyright 2018 The Lawrence Journal-World. All rights reserved. This material may not be published, broadcast, rewritten or redistributed. We strive to uphold our values for every story published.