When Donald Radina decided to extend his patio and add a roof overhang in the backyard of his home in southwest Lawrence, he figured he was starting off right by soliciting bids from several contractors, comparing prices, asking some questions and checking their backgrounds on the Internet.
But now, more than three months after signing a contract with the low bidder, he's still waiting for the comfortable backyard setting he's already paid much of the bill for.
The company's business phone has been disconnected, and a call to the city's Department of Neighborhood Resources revealed that the contractor hadn't even pulled a building permit for the work.
"They've done very little," Radina said last week, having already sunk $3,000 into what remains an unfinished $4,500 job. "They dug footings for it, but that's about it. There's a big pile of dirt in my backyard, and I'm waiting to see what happens. :
"I've got a big pile of dirt, a hand-dug trench and basically nowhere to go. I've got no other options but to hope for the best."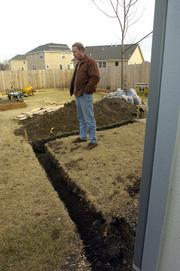 Such stories emphasize the need for homeowners to be particularly thorough in their research before hiring a contractor, officials say, especially as the home-remodeling industry continues to surge.
Homeowners will be expected to pump a record $291 billion into porch additions, kitchen overhauls, basement conversions and other home-improvement projects during the coming year, according to the National Association of the Remodeling Industry, based in Des Plains, Ill. That total would be up 5.8 percent from last year, and continue a remodeling run that has risen by $93 billion - or 47 percent - during the past five years.
With home values climbing and interest rates staying low, homeowners have been taking advantage of mortgage refinancings and home-equity lines of credit to reinvest in their residences, said Gwen Biasi, a spokeswoman for the association, which represents the growing field of remodelers.
And while many people choose to do projects on their own, aging baby boomers are increasingly more apt to turn to a professional for adding a porch, expanding a master suite, opening a home theater or doing anything else that requires large-scale, labor-intensive work.
"History tells us that the older you get, the more likely you are to use a contractor," she said.
That's what makes choosing the right professional so important, Biasi said. As investment in remodeling projects continues to rise, so does the number of "fly-by-night" and otherwise disreputable operators hoping to cash in.
Problems - ranging from simple inconveniences to outright scams - largely can be avoided by investing some time and effort up front, she said. Ask friends for suggestions. Check references. Contact municipal building inspectors, licensing agencies, the Better Business Bureau or the state attorney general's office to ensure that a prospective contractor is properly licensed.
"All that takes legwork, but it's worth it if it saves you some money," Biasi said. "Because you could end up with your house torn apart, and your deposit's gone, and then you have to hire somebody else to clean up the mess, costing you more money."
Homeowners should do all they can to learn as much as they can about anyone they might be hiring to do work on their behalf, said Tim Pinnick, inspections supervisor for the city of Lawrence. The city strives to help foster quality work in town by issuing licenses to contractors; such licenses also ensure that contractors have proper insurance and provide workers compensation for their employees.
But the city can't force a contractor to live up to a contract, other than making sure that the work that is completed is done in compliance with city codes.
"Nowhere in the codes does it talk about contractor-client relationships," he said.
Radina, meanwhile, is still waiting for work to resume on his patio. He agreed, by contract, to pay a third of the bill up front and a third upon the start of construction.
Now, he wonders if he'll ever get a chance to pay the remaining third - the one due upon completion.
"I've got no options other than hoping for the best," he said.
Hiring tips
Anyone thinking about hiring a contractor should obtain as much information as possible about the person or company who will be doing the work, said Tim Pinnick, inspections supervisor for the city of Lawrence. He suggests following these steps before signing a contract: ¢ Develop a list of potential contractors. Ask friends, neighbors, relatives and co-workers whom they have used. Find out if their experiences were good or bad and why. ¢ Ask contractors for references. Call your potential contractors and ask for a list of their customers or locations of completed jobs. Call references and ask whether they were satisfied with the job done. ¢ Ask to which trade associations the contractor belongs. Home building and remodeling are professional work. Membership in a professional association is one sign that the contractor recognizes the responsibilities of being a professional. ¢ Be sure to obtain and evaluate bids. Ask for a free written estimate of the work you want done. Be sure everyone is bidding on the same exact scope of work and including the exact materials you want. If one contractor is bidding on furnishing top-of-the-line materials and another is bidding on furnishing bottom-of-the-line materials, this could account for a big difference in price. Be sure all quotes include everything you want. ¢ Remember, "You get what you pay for" applies to home construction and improvement. A higher bid may be worth the price for better workmanship and contractor reliability. If a contractor has bid too low to make a profit, he may use cheaper materials, take shortcuts, or walk off the job to take another project. ¢ Make sure you understand the different types of bids you may receive. Be careful about hiring a contractor on an hourly time-and-materials or cost-plus basis. Although the price may seem high at first, a fixed-price bid may give you the best protection and price. Also beware of so-called "special deals," "demonstration projects," or "a great deal from a friend of a friend."
Copyright 2018 The Lawrence Journal-World. All rights reserved. This material may not be published, broadcast, rewritten or redistributed. We strive to uphold our values for every story published.