If Ben Franklin somehow awakens today from his eternal slumber, Steve Bradt will have a seat for him at Free State Brewery.
Bradt and brewing colleagues at more than 100 independent brew pubs across the country today are serving up rounds of Poor Richard's Ale in celebration of what would have been Franklin's 300th birthday.
While Franklin wasn't exactly a beer pioneer - he's widely hailed as the inventor of bifocals, the lightning rod and Franklin stove - a line attributed to Franklin lives on as a mantra for brewmasters:
Beer is proof that God loves us and wants us to be happy.
"That particular phrase has really resonated with a lot of people," said Bradt, brewmaster at Free State, 636 Mass., who often sees the words printed on T-shirts at brewing conventions. "He was, as with many of the folks in that era, a staunch proponent of beer - promoting beer in colonial America and the production of beer, because they viewed it as a beverage of moderation. :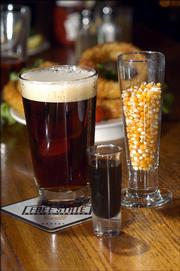 "They felt that rum and whiskey had a lot of potential for being destructive social vices, whereas they saw beer as a much more healthy beverage of moderation."
The Brewers Assn., in Boulder, Colo., conducted a national contest to come up with a common recipe that craft brewers could use to honor Franklin's past and satisfy today's customers.
The judges settled one from Tony Simmons, of Brick Oven Brewing in Pagosa Springs, Colo., whose concoction is infused with molasses and lightened with new world corn.
"Franklin would have been happy with a beer like this because it would have minimized the content that was coming from outside the United States," said Ray Daniels, director of craft beer marketing for the association.
Bradt, an association board member and one of the contest's five judges, said that the recipe offered the appropriate mix of historical accuracy and contemporary appeal.
The ale's name, Poor Richard's Ale, is a play on one of Franklin's most famous publications, "Poor Richard's Almanack." Free State will conduct drawings today to give away copies of Franklin's writings and other prizes.
Bradt brewed 28 kegs of the retro beer, a supply he first tapped into Saturday and expects to last well past Franklin's birthday.
"We don't have to drink it all," he said, of today's daylong party. "I think we can celebrate for a couple of weeks."
Place
636 Massachusetts, Lawrence
-->
-->
Copyright 2017 The Lawrence Journal-World. All rights reserved. This material may not be published, broadcast, rewritten or redistributed. We strive to uphold our values for every story published.