My dog waited as I hunted through the cupboard.
"It's got to be around here somewhere."
I hadn't used the pedometer I'd gotten a couple of years ago for a while. After about a minute of looking, I gave up. The house had swallowed it.
I grabbed Bailey's leash.
As we left on a walk, I remembered I had a birthday coming up. So I thought I might ask for a new one - a pedometer to help me get close to the 10,000-step daily benchmark I'd like to hit.
Leonardo Da Vinci dreamed up a pedometer some five centuries ago, and Thomas Jefferson later invented his own mechanical version.
But nobody has really made a perfect one yet - even the best new digital devices are thought to be at least a little inaccurate, either undercounting or overcounting your steps.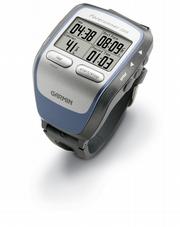 According to University of Tennessee researchers, the best pedometer for accuracy is the Yamax Digi-Walker SW-200 (about $20). It's pretty simple and measures only the number of steps.
There are dozens of others out there, ranging from free ones you might get with a fast food meal or in a cereal box, to those that are in the $500 range and have multiple functions, including timers or calorie counters and even music.
"For most people, the simpler, the better," says Elizabeth Stewart, a post doctoral researcher at Kansas University's Energy Balance Laboratory, which researches weight management. Stewart said KU's researchers use an Accusplit model, which is among those recommended by Consumer Reports.
She recommends wearing a pedometer on a fairly rigid waistband, on your dominant hip, so it's riding just above the knee.
Pedometers give her test subjects a better understanding of how truly active or sedentary they are.
"Wearing a pedometer was significantly related to keeping the weight off, after they left our study," she said.
Stepping up to GPS
I'll never be an elite runner, but I figure I might feel like one if I had a high-tech GPS unit strapped to my wrist.
Elizabeth Stewart, KU post doctoral fitness researcher on pedometers and GPS units
"One, they're really, really cool, especially if you like technology and have the patience to figure out how to download it onto your computer," Stewart said. "But the downside of them is they won't pick up steps indoors, and that's where a lot of people manage to squeeze in some extra physical activity."
At last week's Consumer Electronics Show, Olathe-based Garmin unveiled two new wrist GPS units: the Forerunner 205 and 305.
The Forerunner 205 (about $268) has a high-sensitivity GPS receiver that continuously monitors your speed, distance, pace and calories burned. It's supposed to track better under trees and near taller buildings than previous wrist GPS units.
The 305 (about $377) has a wireless heart rate monitor with a chest strap that helps keep you in your target zone.
Both units work with TrainingPeaks.com, which allows you to download the workout data to get an analysis.
Dropping hints
After looking at pedometers and GPS devices, I started dropping some birthday hints with the kids - to no avail.
I tried the more direct route with my wife.
"I'd been looking at pedometers and this really cool GPS unit you wear on your wrist," I said following her as she started down the stairs. "I mean, if you're still looking for something for my birthd--"
"Too late," she said, smiling.
Copyright 2018 The Lawrence Journal-World. All rights reserved. This material may not be published, broadcast, rewritten or redistributed. We strive to uphold our values for every story published.