Let the temptation begin.
The 800-plus Girl Scouts in Lawrence have hit the streets, hoping to fill you with Thin Mints, Peanut Butter Patties, Caramel deLites and other varieties that have cookie addicts looking for a fix this time of the year.
They're not exactly cookie monsters, but the young cookie-sellers know it can be a little competitive when it comes to hawking the $3.50 boxes.
"If somebody's already bought, you have to not get really sad about it," says Courtney Cooper, 9, who sold 518 boxes of cookies last year. "If somebody gets you sad, it'll slow you down. I remind myself there are enough people out there who want to buy them not to get sad."
Sales by the Girl Scouts of Kaw Valley Council, composed of 13 counties in Northeast Kansas, began Friday and continue through Jan. 18. The Scouts will be delivering them Feb. 25 through March 12.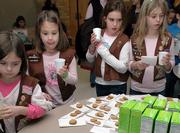 This is the biggest annual fundraiser for Girl Scouts both locally and nationally. The Kaw Valley Council sold around 384,000 boxes last year.
Nationally, the Girl Scouts say they sell more cookies during their short sale period than other cookie brands that sell year-round.
"We're over 60 years for selling Girl Scout cookies," says Debra McKee, director of youth development for the council, which is based in Topeka. "People expect them because they have been around. It's a tradition. They're waiting for them."
Thin Mints - chocolate wafers dipped in chocolate coating, with peppermint oil - are the top seller nationally, accounting for a quarter of all Girl Scout cookie sales. Caramel deLites, which are vanilla cookies covered in caramel, coconut and chocolate, are the next most popular at 19 percent of sales.
Courtney, a fourth-grader at Deerfield School, says she's seen the lengths people will go to for the cookies. She says she no longer can simply leave boxes on the desks of her fathers' co-workers.
How the cookie crumbles
Which cookies are sold the most? ¢ 25 percent, Thin Mints ¢ 19 percent, Samoas/Caramel deLites ¢ 13 percent, Peanut Butter Patties/Tagalongs ¢ 11 percent, Peanut Butter Sandwich/Do-si-dos ¢ 9 percent, Shortbread/Trefoils The other varieties combined account for the remaining 23 percent.
Where to get them ¢ Don't know a Girl Scout? You can buy cookies by calling (800) 432-0286. A Girl Scout will contact you when it's time for the cookies to be delivered.
"We have to be really careful about that," she says. "My dad works in a body shop. There's some people you really have to watch. If there's a favorite, like Thin Mints, they'll probably disappear."
For those wanting a change, the Girl Scouts are offering two new varieties of cookies this year - Thanks-A-Lot and Reduced Fat Cartwheels.
Thanks-A-Lot is a fudge-coated cookie that has the word "Thanks" in five languages. Cartwheels are an oatmeal and cinnamon cookie.
This is the final year for Reduced Fat Lemon Pastry Cremes, a longtime cookie. McKee says Girl Scouts will be urging lemon lovers to buy those in bulk and store them in their freezers.
The scouts also will be touting the nutrition elements that go along with the cookies this year. Five of the cookies - Thin Mints, Caramel deLites, Peanut Butter Patties, Thanks-A-Lot and Reduced Fat Cartwheels - are free of trans fat.
Taylor Eubanks, 11, plans to start hitting up her teachers and relatives. The sixth-grader at Raintree Montessori School says her principal and mother are her top buyers.
She's sold at least 500 boxes of cookies two years in a row, and she's shooting for that number again this year.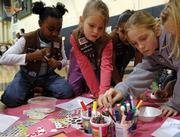 "People just LOVE Girl Scout cookies," Taylor says. "After I finished selling one year, in April somebody started asking how many more days before I started selling again."
Homemade Thin Mint ice cream
3 quarts whole milk
2 cans sweetened condensed milk
1 cup sugar
1 package white chocolate instant pudding
3/4 tube of thin mint cookies
Rock salt
Ice
Mix all ingredients but salt and ice. Put into the container and close it tightly. Put this container into a larger one and add a mixture of ice and salt in layers. Turn it, shake, rattle or roll it until ice cream is frozen. Quit and let it sit for a few minutes to freeze up completely.
Recipe can be made in ice cream maker, two Ziplocs (1 quart and 1 gallon), or two coffee cans (1 1-pound can and 1 3-pound can.
Recipe makes one recipe for ice cream maker, three recipes for Ziplocs, or two recipes for the coffee cans.
Source: www.girlscoutcookiesabc.com
Chocolate Thanks-a-Lot Eclaire
1 package Thanks-A-Lot cookies
1 (3.4 ounce) package instant vanilla pudding mix
1 1/2 cups milk
1/2 (8 ounce) container frozen whipped topping, thawed
1 (16 ounce) package prepared chocolate frosting
Line the bottom of an 8-inch round cake pan with Thanks-A-Lot cookies. In a large bowl, combine pudding mix and milk. Stir well. Stir in whipped topping to pudding mixture. Spread half of mixture over cookie layer. Top with another layer of Thanks-A-Lot cookies and the remaining pudding. Top all with a final layer of Thanks-A-Lot cookies and frost with chocolate frosting. Refrigerate until serving.
Source: www.girlscoutcookiesabc.com
Fudgy peanut butter balls
1 1/2 boxes (24 cookies) Girl Scout Peanut Butter Patties
3 tablespoons butter or margarine, melted
2/3 cup salted peanuts, finely chopped
Place cookies in food processor or blender; process until fine crumbs. Combine crumbs and butter; mix until well blended. Roll mixture into 1-inch balls. Place peanuts in small narrow bowl. Roll each ball in peanuts, gently pressing peanuts into balls. Store in covered container in refrigerator until ready to serve.
Source: www.girlscoutcookiesabc.com
Lemon Blueberry Cartwheel Kicks
2 cups fresh or thawed frozen blueberries
2 (8 ounce) cartons non-fat lemon yogurt
10 Reduced Fat Cartwheels, crumbled
In each of four parfait glasses or tall wineglasses, put 1/2 cup blueberries, followed by 1/2 cup yogurt, then crumbled Reduced Fat Cartwheels. Garnish with whipped topping and fresh mint if desired.
Source: www.girlscoutcookiesabc.com
Copyright 2017 The Lawrence Journal-World. All rights reserved. This material may not be published, broadcast, rewritten or redistributed. We strive to uphold our values for every story published.