Jerusalem — Prime Minister Ariel Sharon was in stable condition today morning in a medically induced coma to prevent further damage from a massive stroke. Doctors said he could be brought out slowly during the weekend, allowing a better assessment of his condition.
Sharon's cranial pressure was steady, meaning there is no need to drain fluid from his brain, Hadassah Hospital Director Shlomo Mor-Yosef said during this morning's press briefing.
"The night passed without change," he said. "All the parameters that we check - blood pressure, pulse, urine output and cranial pressure, the most important parameters - all these parameters are stable."
On Thursday, as Sharon's sons began a bedside vigil and state media broadcast mournful songs, the hospital's switchboard was flooded with get-well messages. The nation's top rabbis called on Israelis to rush to synagogues and pray for the 77-year-old ex-general, whom many saw as the best hope for peace with the Palestinians.
Sharon's deputy, Ehud Olmert, tried to convey a sense of stability while serving as acting prime minister, but Sharon's dramatic downturn left Israelis fearful.
The Web site of the respected Haaretz daily quoted hospital officials as saying Sharon suffered vast brain damage.
Deputy hospital director Shmuel Shapira told Army Radio that reports of permanent, significant damage were "irresponsible."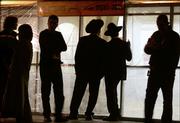 Mor-Yosef on Thursday sought to quash widespread rumors that the prime minister was brain-dead. Sharon's pupils were responding to light, "which means the brain is functioning," he told reporters.
"We are fighting for the life of the prime minister, with no compromise," he said. "The main treatment that the prime minister is receiving is a medically induced coma and breathing assistance. The goal of this treatment is ... to allow the brain to recover from the great trauma it suffered."
Neurosurgeons not involved in Sharon's treatment said a full recovery was unlikely after such a massive stroke. Sharon aides said they assume he would not return to work.
Sharon underwent seven hours of surgery Thursday at Hadassah Hospital after suffering a brain hemorrhage. He will remain sedated and on a respirator for two to three days to give him time to recover, and then he will be gradually awakened, hospital officials said. His sons, Omri and Gilad, were by his side at the neurological intensive care unit.
Sharon's collapse less than three months before March 28 elections left in limbo his moderate Kadima Party, which had appeared headed for an easy victory.
Palestinians reacted with a mixture of glee at seeing the fall of their longtime enemy and apprehension at the instability that could follow. Some Palestinian leaders worried Sharon's illness could derail their Jan. 25 parliamentary elections. "We are watching with great worry at what might happen if he is harmed," Palestinian leader Mahmoud Abbas said.
Under Israeli law, vice premier Olmert took office as acting prime minister. He held an emergency Cabinet meeting Thursday - sitting beside Sharon's empty seat - and said the government would continue to function.
"This is a difficult situation," Olmert, a former Jerusalem mayor, told the ministers.
He later spoke with Abbas by telephone. The Palestinian leader expressed concern for Sharon and wished him a speedy recovery, Palestinian officials said.
Atty. Gen. Meni Mazuz announced that the Israeli election would be held as planned. Sharon was to face off against the new head of his former Likud Party, Benjamin Netanyahu, and Labor Party leader Amir Peretz.
Copyright 2018 The Associated Press. All rights reserved. This material may not be published, broadcast, rewritten or redistributed. We strive to uphold our values for every story published.