Louisville, Ky — Louisville coach Rick Pitino had joked that watching Villanova on tape made him sick.
Seeing the third-ranked Wildcats zip by his ninth-ranked Cardinals 76-67 on Thursday night made Pitino dizzy and his players believers about what lies ahead in the Big East.
"I don't think anyone in Louisville knew how tough the Big East and Villanova was before tonight, now they all know," Pitino said. "Villanova was just a better basketball team."
Randy Foye scored 24 points, and Allan Ray added 17 as the Wildcats welcomed Louisville to the Big East by featuring the kind of speed and depth the Cardinals rarely faced during their days in Conference USA.
"We played extremely tough and aggressive," Villanova coach Jay Wright said. "Our defense and rebounding kept us in it. ... Every time Louisville made runs at us, (our) guys made big plays. Game number one in the Big East, that's what it's going to be like."
With Foye and Ray forcing the Cardinals to spread the floor, Villanova reserve center Jason Fraser found enough room to score 13 points on 6-of-6 shooting. Villanova outrebounded Louisville 42-34 and held the Cardinals to 43 percent shooting as the Wildcats continued their best start since winning the first 12 games in 1961-62. The 10-game winning streak is the longest since an 11-game run during the 1995-96 season.
Kansas University transfer David Padgett led Louisville with 17 points and six rebounds before fouling out with less than three minutes to go. Brandon Jenkins and Chad Millard each added 12 points for Louisville, which got only nine points in 18 foul-plagued minutes from leading scorer Taquan Dean.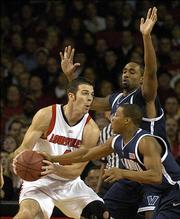 "Their guards are so unbelievably quick on defense, they slap down a lot and get a lot of steals," Padgett said. "Their press makes it hard for you to run your offense."
No. 6 Illinois 60, No. 7 Michigan State 50
Champaign, Ill. - Dee Brown scored a career-high 34 points, and Illinois held Michigan State nearly 33 points below its average to win their Big Ten-opening showdown. The Illini (15-0) extended their home winning streak to 30 games, matching No. 8 Gonzaga for the longest current run in the country.
No. 17 UCLA 85, No. 21 Arizona 79
Tucson, Ariz. - Arron Afflalo scored 22 points, and UCLA, which shot 61 percent, held off a late Arizona rally. The Bruins (12-2, 2-1 Pac-10) never trailed and were up by as many as nine points in the second half, but the Wildcats (9-4, 2-1) twice cut the lead to two in the final minute.
No. 18 Ohio State 104, Penn St. 69
Columbus, Ohio - Ron Lewis scored 26 points, and J.J. Sullinger added 18, and they combined to hit all but one of their 19 shots from the field in the Big Ten opener for both teams. The Buckeyes (11-0), off to their best start in 15 years, shot 63 percent from the field.
No. 24 West Virginia 57, South Florida 53
Tampa, Fla. - Mike Gansey scored 18 points, and Kevin Pittsnogle had 16 to lead West Virginia to its seventh straight win in the Big East opener for both teams.
Copyright 2018 The Associated Press. All rights reserved. This material may not be published, broadcast, rewritten or redistributed. We strive to uphold our values for every story published.