Free State High boys swimming coach Annette McDonald took a realistic approach into Thursday's five-team meet at the Firebirds' home pool.
She didn't expect her team would knock off mighty Shawnee Mission North, but she wanted to see her swimmers put up a fight and make the final outcome interesting.
By that criteria, Free State came out a winner.
Brian Hatesohl picked up an impressive victory in the 50-yard freestyle, a handful of additional swimmers lowered their season-best standards, and the Firebirds flashed impressive depth in the relays to finish with 357 points, a solid second-place showing behind the heavily favored Indians (392).
Lawrence High finished third with 277 points.
"They were so competitive. Times dropped by several seconds and by 10ths of second in the shorter races," McDonald said. "I'm so pleased with everyone's performance.
"They're just looking at what it will take to get faster, at what it will take to improve, and they're just so motivated."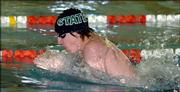 The first shot of mojo came in the opening event, as the Firebird quartet of Spencer Flannigan, Julian Spangler, Danny Wolff and Hatesohl fell just .3 seconds shy of winning the 200 medley relay.
Apparently, that didn't satisfy Hatesohl, who came back three events later to win the 50 free in 24.60 seconds - touching the wall just .07 seconds ahead of Lawrence High's Tavis Sartin.
"Brian winning the 50 free was so fun to watch," McDonald said. "And although we didn't get first in the 200 free relay, that was friendly and good competition. That was just a great race."
In that one, the LHS quartet of Marcus Barnoskie, Alex Boyer, Zach Henderson and Sartin came out on top in 1:38.64, a mere .29 seconds ahead of the same Free State group that just missed on the 200 medley relay.
"I'm most excited for our first in the 200 free relay. That's the first relay we've won in a while," LHS coach Ryan Adams said.
While it was the Lions' lone victory Thursday, it might not have been their biggest highlight. That honor arguably belongs to Boyer, who qualified for the state meet courtesy of his second-place showing in the 500 free with a time of 5:07.62 - almost 43 seconds ahead of the third-place finisher.
"That's really exciting to get one under our belt," Adams said.
The chances for both city squads to add qualifiers now will come in a flurry. After swimming sparingly in December - in part due to the holiday break - both programs will see plenty of competitive pool time between now and the end of January.
While Free State won't swim again until Thursday's home invite, LHS will be back in the water Tuesday when it plays host to an invitational.
"I think our guys are ready to swim fast. We had a long spell of not that many meets," Adams said. "We're looking forward to our meet on Tuesday. The next month is just going to be a whirlwind."
Copyright 2018 The Lawrence Journal-World. All rights reserved. This material may not be published, broadcast, rewritten or redistributed. We strive to uphold our values for every story published.