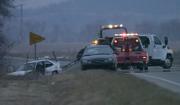 At least one person was injured in a three-vehicle accident this morning about two miles north of Lawrence on U.S. Highway 59.
Witnesses saw emergency personnel transport the driver of a semi tractor-trailer by ambulance to Lawrence Municipal Airport, where that person was taken by air ambulance to Kansas University Medical Center.
Emergency personnel were still on the scene this morning.
Two cars were also involved in the accident, which occurred around 7 a.m.
Copyright 2018 The Lawrence Journal-World. All rights reserved. This material may not be published, broadcast, rewritten or redistributed. We strive to uphold our values for every story published.