Davis, Okla. — Firefighters aided by retardant-dropping airplanes contained a 7,000-acre grass fire in southern Oklahoma's Arbuckle Mountains on Wednesday and began battling another fire in the area.
Elsewhere in Oklahoma, about a dozen grass fires flared in dry, sunny conditions but firefighters were able to quickly knock down flames, state fire information officer C.J. Norvell said.
"Several fires were scratched off pretty quickly, and that's a pretty good indicator that we have folks really scrambling to get out there and keep them small," she said.
After containing the fire near Davis in southern Oklahoma, firefighters began tackling another fire several miles south of that city. Tanker aircraft, based nearby in Ardmore, could be seen dumping their huge loads of retardant on the blaze.
All of the wildfires in the area were contained Wednesday evening, fire officials said.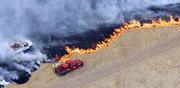 Statewide, grass fires have killed two people, burned across 353,000 acres and destroyed more than 220 homes and businesses and since Nov. 1.
On Wednesday evening, Gov. Brad Henry announced plans to expand the statewide burn ban to prohibit campfires and outdoor charcoal grilling. The expanded ban, which will go into effect today, also includes stricter requirements on outdoor welding.
"Our forestry officials have consulted with Gov. Henry and his staff, and all agree that conditions are so dangerous that even these relatively low-risk activities must be discontinued until fire danger subsides," said Oklahoma Secretary of Agriculture Terry Peach.
Highs were in the low 60s Wednesday in mostly sunny weather. Winds stayed under 20 mph in most areas. No rain was in sight. Forecasters were predicting that Saturday could be a particularly dangerous day, with warm temperatures, low humidity and high winds expected.
"It's getting kind of ridiculous, actually," said National Weather Service forecaster Bruce Thoren. "It's one thing to be dry. It's another thing to be dry and have above-average temperatures like we've had the last two weeks."
On Tuesday, a grass fire that authorities suspect was set by an arsonist hop scotched across the small northeastern Oklahoma town of Shamrock, destroying an abandoned school house and one home and damaging other structures.
The fire started between 1:30 p.m. and 2 p.m. and was contained about 4 p.m., said Loren Andrews, the assistant fire chief in nearby Drumright. An air tanker repeatedly dropped fire retardant on the blaze.
Andrews said arson was suspected because the fire began near Highway 16, and other fires that had burned at least 10,000 acres nearby over the weekend also appeared to have been set near roadways.
Copyright 2018 The Associated Press. All rights reserved. This material may not be published, broadcast, rewritten or redistributed. We strive to uphold our values for every story published.