Take that, Texas.
Kansas University's unbeaten but unranked women's basketball team finally produced an attention-getter Tuesday night, humbling the No. 23-ranked Longhorns, 70-61, in Allen Fieldhouse.
"A lot of people think we haven't played anybody," KU guard Erica Hallman said, "but I think we proved we can play with a Top 25 team."
Hallman and Kaylee Brown nailed a trio of three-point goals apiece as the Jayhawks boosted their record to 12-0 by capturing their Big 12 Conference opener.
On Monday, the Jayhawks received a magnanimous three votes in the Associated Press weekly poll, remaining the only unbeaten team in the country that hasn't cracked the Top 25.
That could change next week.
"I think we're just shoving it in people's faces," Brown said. "We're here to win. We're here to go to the (NCAA) tournament."
Except for one crucial statistic, Tuesday's litmus test virtually was even. Both teams had 24 field goals, both had 35 rebounds, and each was guilty of 19 turnovers. Even the free throws were close, KU with 14 and Texas with 12.
But Texas missed six of its seven three-point attempts, while KU made eight of 20.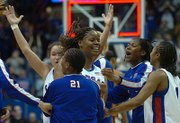 "Eight out of 20 is not bad," Hallman said with a smile, "when they shoot one-for-seven."
Even Crystal Kemp, who scores mostly underneath, counted her first three-pointer of the season, and only the sixth of her career.
"I have the green light to shoot it," said Kemp, who finished with game highs in points (21) and rebounds (10), "and fortunately it went in."
Tiffany Jackson, UT's all-league forward, had 18 points, but only three rebounds.
"The difference," KU coach Bonnie Henrickson said, "is we had eight threes, and we rebounded when we needed to. We didn't let them go crazy on the offensive glass."
Texas had a size advantage, but coach Jody Conradt was more concerned about another paltry offensive outing from her backcourt. The Longhorns rank dead last in the Big 12 in three-point shooting.
"We were overmatched at the guard position," Conradt said, "and it's a guards' game."
KU perimeter players Hallman, Brown and Ivana Catic combined for 38 points -- 21 on three-point goals. UT's three starting guards counted 21 points -- just three on three-pointers.
At the same time, Conradt recognized that Kansas' fast start hadn't been a fluke.
"First and foremost, Bonnie has done a great job," said Conradt, a women's coaching icon. "They're really playing well. They're so disciplined. They'll be hard to beat. I think they'll be a factor in the Big 12."
Henrickson wasn't looking that far down the road, but she did note why the Jayhawks played their first 12 games at home, the first 11 against semi-lustrous competition.
"We're not here to say we're the best team in the country," KU's second-year coach said. "What we've done is create momentum. If we're 6-5 going into this game, we may not have the momentum we need."
Nobody can play them all at home, however, and the Jayhawks will make their first road trip Saturday when they go to Nebraska.
"I think they're excited to get on a bus and go," Henrickson said of her players "We've just got to do what we've been doing and do it better."
Notes: The season-high crowd of 5,634 included Gov. Kathleen Sebelius, a KU grad. ...It was the largest home gathering since 11,858 attended the 2002 Kansas State game. ... KU already has won as many games as it won all last year, when the Jayhawks went 12-16. ... The 12-game win streak is the longest in school history. ... KU snapped a five-year losing streak in league openers. ... KU had dropped 36 consecutive outings to ranked foes. The last victory over a ranked team had been in 2001 against Iowa State, then ranked No. 6.
Copyright 2018 The Lawrence Journal-World. All rights reserved. This material may not be published, broadcast, rewritten or redistributed. We strive to uphold our values for every story published.