Kansas University student Arianna Williams misses her freshman year, when she paid roughly 14 percent less than she does now to go to school.
"I would love to go back to last year," said the sophomore from Wamego, who has one student loan.
With the cost of higher education rising at many schools nationwide, one KU student wants to put money back in students' pockets by tackling the area that students have some control over - student fees.
KU sophomore Dennis Chanay and his Freedom from Fees coalition are floating a plan to cut student fees by $100 per student - a move that could reduce student fee revenues by about $2.5 million.
"It's not crazy," Chanay said. "It's reasonable. I don't think students have ever had that option."
If Chanay collects 1,000 student signatures, he can take his fee-cutting plan to students for a vote in April. If approved, the measure also would need approval by the Kansas Board of Regents.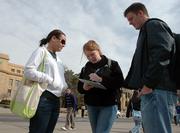 Chanay, who has been involved in student government, said he believed the state should be covering the cost of some items now covered by student fees, and he said his proposal was democratic because it left the issue up to a student vote.
Student Body President Nick Sterner said the proposed cuts would be devastating.
"It's more than just cutting fees," Sterner said. "It's attacking the services that are provided to students."
Students now pay $294.50 per semester in fees. Resident tuition is $2,412 per semester.
Chanay proposes cuts to several areas including student activities, student health, recreation and legal services.
Sterner said the plan, among other things, would eliminate the campus pharmacy and turn back the clock on the campus' strides in the area of recycling. But Chanay said the cuts were moderate, and his plan forced fiscal responsibility at a time when the rising costs of higher education were making it harder for students.
"We're just setting priorities," Chanay said.
Roughly 42 percent of KU's 2005 graduating seniors had borrowed money while at KU. Their average debt: $17,243.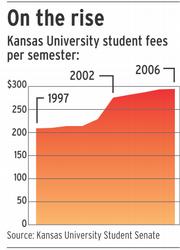 Williams, who has one job and is already paying off a loan she took out this academic year, said she was lucky her parents helped her.
"Some people don't have that," she said. "Some people have to do it on their own. It would be horrible. I can't imagine that."
Student fees have risen 40 percent since 1997, when students paid $209 per semester.
Sterner said the fees paid for services that students had called for over the years, and students oversaw how the funds were used.
"It's not a matter that nobody is watching this money and it's just getting spent somehow," he said.
While he recognized that tuition and fees have risen at KU, Sterner said the university continued to be a bargain in the Midwest.
KU tuition and fee costs rank seventh among the 11 Big 12 public schools. Baylor, the 12th school, is a private university.
As Chanay and his coalition propose cuts, KU's student government is considering increasing fees by $4 per student for bus services and transportation costs. Sterner said such services faced growing demand and rising fuel prices.
Copyright 2018 The Lawrence Journal-World. All rights reserved. This material may not be published, broadcast, rewritten or redistributed. We strive to uphold our values for every story published.