Cincinatti — Business schools are getting a lesson in supply and demand when it comes to teachers.
The schools have been competing for students for years as the number of master in business administration programs at universities has soared. Now the schools also are competing for a dwindling supply of doctoral business faculty to teach those students.
Major accrediting groups and business school officials say the diminishing supply of people with doctorates in business and the rapidly increasing demand for their services globally have pushed doctoral salaries through the roof. It's also forced business schools to devise ways to effectively compete for doctoral faculty and find alternatives for filling vacant faculty positions.
"There are two to three times the positions available as there are people to fill them," said Richard Sorensen, board chairman for the Association to Advance Collegiate Schools of Business International. The Tampa, Fla.-based organization accredits collegiate business schools offering undergraduate, master's and doctoral degree programs.
Business education experts say a shortage of doctoral faculty in business will hurt the quality of research and teaching and leave future business executives less prepared for leadership roles in a global economy.
Roger Jenkins, dean of the Richard T. Farmer School of Business at Miami University in Oxford, Ohio, described the shortage as severe.
"There is a huge cut in the supply and no turnaround in sight," he said.
Those in business education say that several factors have combined to create the imbalance.
Besides the growing number of business schools in the United States, there has been an explosion of such schools in other countries - schools that are seeking American-trained faculty with doctoral degrees.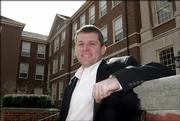 Jenkins said budget cuts to state universities had led many schools to cut back their doctoral business programs, which are among the most expensive degree programs. The schools bear most of the cost of those programs, providing teaching stipends and tuition waivers to students who spend four years or more earning doctoral degrees.
"The number of Ph.D.s coming out of the large institutions has been decreasing about 20 percent a year for the past three to four years," Jenkins said.
The expense and time required for a doctoral degree also discourages students who can make much higher salaries in business.
Brett Smith, 36, of Oxford, is finishing his doctoral degree at the University of Cincinnati and will start teaching at the Miami business school in the fall. He said he might not have been able to seek the doctoral degree if he didn't still draw income from businesses he owns.
"It's a big choice when you are already out in the working world and married with children. A lot of people would love to teach, but can't afford the financial sacrifices," said Smith, whose starting teaching salary will be about 60 percent to 65 percent of what he was earning in business four years ago.
Copyright 2018 The Associated Press. All rights reserved. This material may not be published, broadcast, rewritten or redistributed. We strive to uphold our values for every story published.