Cincinnati — Smokers squeezed by soaring cigarette costs and workplace smoking bans are increasingly being hit with another cost increase - this time for health insurance.
A growing number of employers are requiring employees who use tobacco to pay higher premiums, hoping that will motivate more of them to stop smoking and lower health care costs for the companies and their workers.
Meijer Inc., Gannett Co., American Financial Group Inc., PepsiCo Inc. and Northwest Airlines are among the companies already charging or planning to charge smokers higher premiums. The amounts range from about $20 to $50 a month.
"With health care costs increasing by double digits in the last few years, employers are desperate to rein in costs to themselves and their employees," said Linda Cushman, senior health care strategist with Hewitt Associates, a human resources consulting firm.
She said the practice of smoker surcharges was becoming such a significant trend that this year, it would be part of Hewitt's annual survey of companies' current and future health care plans.
Cushman said a survey of 950 U.S.-based employers last year showed that at least 41 percent used some form of financial incentives or penalties in their health care plans.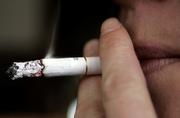 She estimates that at least 8 percent to 10 percent of the businesses probably aimed some of the incentives or penalties at smokers and says that percentage is growing.
"With smokers costing companies about 25 percent more than nonsmokers in the area of health care, it just makes good business sense," she said.
The companies imposing the surcharges are mostly self-insured, with employers and employees sharing the insurance premium costs.
Other companies or insurance plans have offered workers financial rewards for exercising, dieting or other healthy behaviors. Some have started onsite fitness programs and are paying for gym memberships.
The Centers for Disease Control and Prevention estimates $92 billion in lost wages annually in the United States from smokers who die prematurely. In addition, the economic cost of smoking includes $75.5 billion per year in direct health care costs.
"In addition to employers having to pay out more in health care costs, public opinion is now solidly on the side of eliminating smoking and workers are realizing increasingly that they are having to pay for others' lifestyle choices," said Helen Darling, president of the National Business Group on Health.
Lewis Maltby, president of the National Workrights Institute, says that making smokers pay more for insurance and take more responsibility for their health choices is not inherently wrong, but he worries about the precedent the surcharges may set.
"They could be the first step down a very dangerous road," Maltby said. "Do we really want to live in a world where employers penalize us for everything in our private lives that isn't healthy?"
Copyright 2018 The Associated Press. All rights reserved. This material may not be published, broadcast, rewritten or redistributed. We strive to uphold our values for every story published.