The Kindergarten Futsal Soccer Blues and Jayhawks met Saturday at Holcom Park Center to learn the basics of soccer through the help of both the coaches and referee.
Although no scores are kept at the kindergarten level, both teams were able to keep the ball moving and even rack up a few points.
"They played really hard," said Jay Garvin, coach of the Blues. "They're really starting to learn the basics, and that's what's important."
Both teams saw excellent control over the ball early on the game. The Jayhawks managed to keep the ball out of the defensive zone quite a bit, however the Blues also managed a clean get away the majority of the time.
The Jayhawks managed to land the first goal, however the Blues soon hit one up of their own. Throughout the game, the players were instructed on the basic tenants of the game, including throwing the ball in after the goalie catches it and face-offs after scoring.
Photo Gallery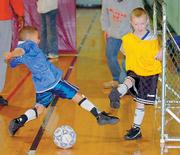 Kindergarten Futsal
"I'm really happy because they're beginning to grasp the concepts of soccer," Jayhawk coach Tony Daniels said. "They're starting to understand the responsibilities of each position."
All the goalies managed to cover the nets; Zachary Malsbury even caught a flying kick and stopped it cold. Both teams managed to keep each other on their toes. The game ended with cheers and high-fives all around.
"It's really rewarding to see them start understanding," Daniels said.
Copyright 2018 The Lawrence Journal-World. All rights reserved. This material may not be published, broadcast, rewritten or redistributed. We strive to uphold our values for every story published.