Overland Park — Nick Ayre knows he has a special place in Free State coach Chuck Law's heart - even if he still turns the ball over too much.
"After a couple of times, then I do something good to make up for it," Ayre said, "so he still loves me."
The Firebirds' coach especially was fond of the senior Tuesday night, as the entire team reflected the guard's defensive effort and intensity in a 51-32 victory over Shawnee Mission North.
"He's the most workmanlike player Free State has ever had and one of the hardest-working players I've ever been around," Law said. "The energy he brought tonight was really the key to our victory."
With a stingy full-court press, the Firebirds forced a season-high 30 turnovers in the runaway win.
The miscues also allowed for more layup opportunities in transition - a welcome sight for a Firebird team that has had trouble all year putting points on the board.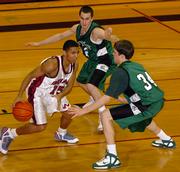 "When you struggle as much offensively as we do," Law said, "that's what's going to win us games."
Though he only scored six points and grabbed two rebounds, Ayre was the defensive catalyst for Free State.
The senior stepped in multiple passing lanes - creating problems for the North guards all night - and also started a team trend of diving on the floor for loose balls.
At one point in the huddle, Law compared Ayre to former Kansas player Nick Bradford.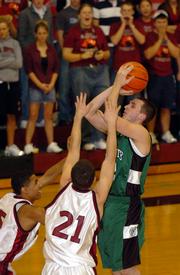 "I always remember coach (Roy) Williams talking about how frustrating it was to coach Nick Bradford, but he couldn't take him out of the game because he'd get mad at him and then before he could get him out, he'd do something really good," Law said. "That's kind of what Nick was tonight."
Free State (6-11 overall, 2-6 Sunflower League) buckled down defensively to begin the game, keeping North scoreless for nearly six minutes. Meanwhile, Scott Heitshusen connected on consecutive three-pointers to give the Firebirds an early 10-0 lead.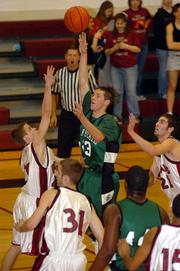 The offense wouldn't improve much for the Indians. At halftime, North had 17 turnovers and just 10 points.
The Firebirds themselves had 11 offensive miscues before the break and 24 overall.
"We were so ridiculously careless with the ball when we got turnovers," Law said. "We could have really had the game on ice at halftime."
Free State was never seriously challenged in the second half, leading by as many as 23 points.
Christian Ballard added the exclamation point, breaking away for his second dunk of the season with two minutes remaining.
"We thought he was going to lay it in," Ayre said. "If he did, he was going to get some words after the game."
Heitshusen led all scorers with 11, while David Green added double figures with 10.
Free State will host Shawnee Mission West on Friday.
Copyright 2018 The Lawrence Journal-World. All rights reserved. This material may not be published, broadcast, rewritten or redistributed. We strive to uphold our values for every story published.