Beirut, Lebanon — Hundreds of thousands paid tribute to Rafik Hariri on the anniversary of his assassination Tuesday, shouting anti-Syrian slogans in a show of strength aimed at reviving the "people power" spirit that helped break Damascus' domination over Lebanon.
Anti-Syrian groups - buoyed by a turnout that police put near 800,000 and organizers said was more than a million - stepped up demands for the resignation of Lebanon's pro-Syrian president.
Politicians opposed to Syria are a majority in government and Parliament, but have been unable to force out President Emile Lahoud or catch those behind a series of deadly bombings that claimed dozens of lives, including Hariri.
Huge crowds filled downtown Martyrs' Square on Tuesday and thronged Hariri's nearby grave, waving thousands of red-and-white Lebanese flags with the green cedar symbol.
The throng repeatedly shouted the name of Hariri's son and political heir, Saad. And some carried placards denouncing Syria and its president, Bashar Assad.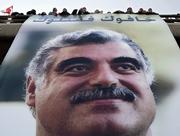 The crowd fell silent at 12:55 p.m. - the time a huge truck bomb exploded on a downtown street as Hariri's motorcade drove by a year ago, killing him and 20 others. A horn blew three times to symbolize the instant the bomb went off. Then the crowd roared with shouts of "Syria out."
"Those who killed Hariri meant to kill Lebanon, but they failed. A new united Lebanon was born," Samia Baroudy, a 52-year-old Christian, said as she clutched a Lebanese flag.
Syria's troops withdrew from Lebanon in April under international pressure, and the U.N. probe into Hariri's slaying already has implicated top Syrian and allied Lebanese security officials in his death.
Three top Lebanese generals close to Lahoud have been arrested in connection with the slaying.
Copyright 2018 The Associated Press. All rights reserved. This material may not be published, broadcast, rewritten or redistributed. We strive to uphold our values for every story published.