Having traded in Free State green for Lawrence High red during the summer, Dequesne Sprow wasn't sure what to expect when she showed up for this year's "Rumble in the Alley."
"I did feel a little nervous," Sprow said. "I didn't know how everyone would react."
How about green with envy?
The LHS junior rolled a 577 series, including a 211 in the middle of her three-game set, to secure top honors and lead the Lions to a convincing victory Tuesday over their cross-town rivals at Royal Crest Lanes.
The Lions dropped 2,081 pins, while the Firebirds managed just 1,736.
Sprow's addition to the LHS lineup provided a nice boost to a team that finished ninth at last year's inaugural state tournament. Against the Firebirds, she offered more than that. With defending state champion Tiffany Demaline battling a bad back and two sore knees, Sprow took center stage.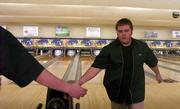 She found the perfect antidote to her pre-match butterflies, consistently stringing together strikes on her way to a 192 average.
"I'm sure she had some mixed feelings today," LHS coach Greg Farley said. "She's just a very classy young lady and came out and had her best series in three or four matches.
"She's become one of our leaders, and we're fortunate to have her this year."
Sprow tried to downplay her importance in the LHS lineup.
"I'm not a replacement; I'm just an addition," Sprow said. "It's nice to say I did better than Tiffany, but she's always right up there with me."
Sure enough, despite her ailments, Demaline added a 553 series, while Jessica Wyatt contributed a 540.
Lindsay Vannicola led Free State with a 447 series, one pin better than teammate Melissa Burnside.
The boys half of the rumble also featured dominance, this time by the Firebirds.
Kenny Altman finished with a 620 series, Werner Nelson rolled the day's best game with a 256 on his way to a 604, and Free State cruised to a 2,389-2,148 victory.
All four of the Firebirds' contributing scores came in higher than the top LHS finisher. Shawn Jimboy led the Lions with a 546, while Daniel Chandra made good on his recent promotion from the LHS junior varsity with a 544.
Still, Altman was unimpressed by both squads' efforts.
"With the skills both teams have, 620 shouldn't have been the high series. Both teams struggled," said Altman, citing an inability to make quick adjustments to lane conditions.
He also didn't take any solace in the fact the Firebirds narrowly missed a 200 average across the board.
"It would have been only our second 2,400 (series). But with the guys we have, we should be shooting a 2,400 every week."
Both teams return to action Thursday. Free State will play host to Oskaloosa and Olathe East at Royal Crest Lanes, while LHS goes on the road to face Olathe North.
2005-06 Journal-World Cup
2005-06 Journal-World Cup
Standings
LHS: 10
Free State: 17
LHS varsity wins: 10
Free State varsity wins: 17
Note: The girls track and field teams recorded a tie during the Sunflower League meet.
Copyright 2018 The Lawrence Journal-World. All rights reserved. This material may not be published, broadcast, rewritten or redistributed. We strive to uphold our values for every story published.