Brenda McFadden knows she lucked out.
A day after opening gifts, the Lawrence resident had but one misfit toy - OK, a faux suede men's button-down shirt - to lug back into a store Tuesday, by far the busiest return day of the year.
So she confidently ducked into Weaver's Men's Store, informed sales associate Kristin Zey that she'd bought an XXL instead of an XL, and in less than a minute had exchanged the rust-colored garment for an even more appropriate pumpkin version: no receipt, no questions, no trouble.
Talk about the right fit.
"I'm so glad this was my only return," McFadden said. "I knew it would be painless. It's Weaver's. It's all good."
There's another side to the gift return industry, however. Retailers nationwide have been busy tightening their return policies to combat increasing consumer fraud.
The industry expects to lose
$3.5 billion to consumers who use return policies to collect cash for stolen merchandise, launder money or get cash back for products after they've been used.
No wonder many companies are fighting back.
Limits are being placed on returns, whether it's by being more stringent about having a receipt or curbing the length of time that items will be accepted. Some stores charge restocking fees, and others reject returns altogether.
Such rules can be frustrating for consumers.
"I'm not a returner," said Caroline Nobo, still unsure about taking back an "impractical" T-shirt to Gap. "I'd rather keep it and hope that someday it'll grow on me. Returning things is just such a hassle."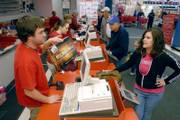 Fraud factor
Of companies surveyed by the National Retail Federation, nearly 70 percent said they had adjusted return policies to address fraud concerns. And more than 50 percent reported being victims of at least one kind of return fraud, from use of counterfeit receipts (52 percent) to issuing refunds on stolen merchandise (95 percent).
"Retailers have often viewed lenient return policies as a cost of doing business with honest shoppers," said Joseph LaRocca, the federation's vice president for loss prevention. "Unfortunately, due to an increase in return fraud, retailers are being forced to strike a delicate balance between serving loyal shoppers and discouraging opportunistic criminals."
At Wal-Mart, 3300 Iowa, shoppers began lining up at the return desk at 9 a.m. Tuesday and often ran 20 to 30 customers deep throughout the day. A year ago the store would accept returned items, essentially no questions asked, but these days associates are insisting that items carry a UPC code and meet other standards.
"We've been a little tougher," a manager acknowledged between returns Tuesday afternoon. "We're trying to keep the money in the store, with our associates."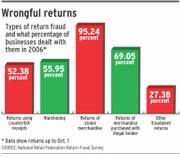 'Bottom line' approach
McFadden, the Weaver's shopper, doesn't blame businesses for taking great care in deciding what to take back. Fraud eats into a company's profits during a critical sales period.
"The bottom line is everything," says McFadden, an accountant who counts dozens of businesses as clients at her Lawrence firm, McFadden & Associates. "You have to be able to pay your employees, and all the benefits. The cost of doing business just keeps getting higher."
That's why she makes it easy on the folks to whom she gives gifts.
When McFadden gave her daughter two pair of jeans, two button-down shirts, a tank top, a hoodie and a V-neck sweater, she included another thoughtful item: a gift receipt.
"It's easier for everybody," she said.
Over at Target, 3201 Iowa, a full team of employees kept at least four registers open for returns Tuesday. People with gift receipts moved through fastest. But customers are allowed two no-receipt returns each year, a practice that's been in place for several years.
'We're prepared'
"We have a whole asset-protection team that helps us out with tricky returns," said Andrea Smith, a Target manager. "We're prepared."
Back at Weaver's, 901 Mass., managers continue to rely on a return policy that really hasn't changed much since the store opened downtown nearly 150 years ago. It's the same policy that allowed the clerk to complete an even exchange for McFadden's shirt, without the customer having to produce a receipt.
"We take care of the customers and give them what they want," said Earl Reineman, store vice president. "Our customers appreciate our flexibility, and appreciate us making things easy for them."
Copyright 2018 The Lawrence Journal-World. All rights reserved. This material may not be published, broadcast, rewritten or redistributed. We strive to uphold our values for every story published.