Considering this will be just the third varsity season of football at Veritas Christian, it is pretty impressive to see the school combined for a 13-6 record during its first two years.
"Start-up programs don't usually start up that strong," Veritas coach Doug Bennett said. "We had a lot of talented guys who graduated that set the example. These guys that are seniors this year that will be filling those spots are anxious to keep that tradition going."
Bennett will deal with the loss of five seniors from last season and hopes to continue the success on the field.
"We graduated guys that were very key to our success, but I do feel like we have guys waiting in the wings ready to take over, to replace all those stats," Bennett said.
What Bennett is most proud of during the team's first two seasons is he has had two players continue playing at the collegiate level.
"Even though we are a small program, we are getting kids to the next level," Bennett said. "It is fun to see. Hopefully, we can keep things rolling."
Bennett will look to Ben Balman to take over an offense that averaged more than 42 points and 400 yards of offense per game during last season's 6-3 campaign. Balman, a senior, will replace quarterback Casey Woods, who threw for nearly 3,000 yards during his career.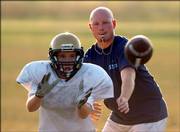 "He is a good leader," Bennett said of Balman. "He is a very quick learner. He is competitive. He is a tough-nosed player."
Also competing for the quarterback position is Josh Masrud.
Balman will be joined in the backfield by senior fullback Ben Reynolds. Reynolds rushed for nearly 100 yards last season, and Bennett expects him to be a vocal leader this season. Reynolds will attempt to replace last season's leading rusher, Jesse Schultz, who rushed for more than 1,200 yards.
Reynolds, who also played at outside linebacker on the defensive side last season, has moved to middle linebacker this fall. Reynolds had 36 tackles last season and has started since his freshman campaign.
"This will be the first time he has been in the middle, so we are expecting some more tackles out of him there," Bennett said.
Bennett understands the difficulty his football team faces this season, simply because of the lack of numbers on his team's roster.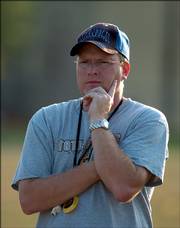 Bennett's eight-man football team has just 12 players on it, which has made it difficult for him to gauge where his team is at. He has been unable to scrimmage and see his team in the environment it will face when the Eagles open their season against Baileyville.
"We haven't had the opportunity to have them really hit," Bennett said. "You can do that in drills and stuff but doing it 8-on-8 is difficult. We have to do things a little different."
It has not been as hot as in previous years, which has allowed Veritas to focus more on conditioning in the preparation for the season opener.
"Guys are working hard," Bennett said. "We have a lot of new guys in new positions. We are just putting the pieces together."
Veritas hopes to challenge Baileyville as well as last year's KCAA state champion, St. Mary's Academy, during the season. Baileyville will be the team's first challenge on a schedule that Bennett called, "tough".
"We will see where we stand right away," Bennett said of the season opener. "We are still doing our homework on them. I think they are in a similar situation to us. I think they had some key positions that graduated. They are a football school and they will have kids."
Veritas lost in the first round of the playoffs last year to Wichita Word of Life.
Bennett spent the final week of fall practice focused on defense, since his team has worked primarily on its offensive schemes to this point.
"We have spent a lot of time on the offense so we need to catch up on the defensive side of the ball," Bennett said. "In terms of the playbook offensively, we need to get a little deeper. We need to work on repetition and polishing the base of our offense."
Copyright 2018 The Lawrence Journal-World. All rights reserved. This material may not be published, broadcast, rewritten or redistributed. We strive to uphold our values for every story published.