Cairo, Egypt — At least 58 people were killed and 142 injured Monday in a high-speed crash of passenger trains north of Cairo that was Egypt's deadliest rail disaster in years and raised concern over the government's safety standards.
The two trains, whose passengers were mostly rural state workers and police officers headed to work in Cairo, were on the same track when one smashed into the other from behind in the city of Qalyoub, in the Nile Delta region. Survivors and rescue workers described a gruesome tangle of bodies trapped under heavy iron wreckage.
"All the people around me were dead and covered with newspapers and when I woke up, I found they had covered me with newspapers, too," said Rabah Abdelaty Rehan, 31, whose minor injuries were treated at a hospital in Cairo.
He had been sitting across from a traffic police officer whose head was severed.
"May God have mercy on his family and give them patience," Abdelaty said sadly.
Transportation Minister Mohamed Mansour said the crash was under investigation. "It could be human error, but we have to wait for the results," he said.
Survivors of the crash and relatives of the dead were outraged at the poor condition of the trains, which they described as stuffy, enclosed cars with no ventilation. Poor Egyptians who rely on trains because they cost less than taxis or buses said they were used to suffering from winter cold and summer heat.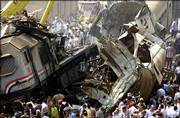 "We will file a complaint against the railway authority," said Khaled Abdelfattah, whose brother, Hesham, suffered broken bones and internal bleeding. "This is so unjust."
Mansour acknowledged that the railway authority was in bad shape and needed renovation, and he blamed recent budget cuts of an estimated $268 million. He said the government had been drawing up a five-year plan to address the concerns.
"We admit there are problems, and since last March we've said the state railway authority needs major improvements," Mansour said. "The trains, the railway, the signals, all need repairing."
The Egyptian government announced that it would pay compensation to the victims and their families: $1,000 for those killed in the crash and $500 for the injured.
Copyright 2018 The Lawrence Journal-World. All rights reserved. This material may not be published, broadcast, rewritten or redistributed. We strive to uphold our values for every story published.