Beirut, Lebanon — Tens of thousands of Lebanese jammed bomb-cratered roads Monday as they returned to still-smoldering scenes of destruction after a tenuous cease-fire ended 34 days of vicious combat between Israel and Hezbollah.
Highlighting the fragility of the peace, Hezbollah guerrillas fired at least 10 Katyusha rockets that landed in southern Lebanon early today, the Israeli army said, adding that nobody was injured. The army said that none of the rockets, which were fired over a two-hour period, had crossed the border and so it had not responded.
Lines of cars - some loaded with mattresses and luggage - snaked slowly around huge holes in the roads and ruined bridges. Many Lebanese expressed shock at finding houses and villages flattened in more than a month of Israeli air and artillery strikes.
Dual claims of victory
Hezbollah fighters hugged each other and celebratory gunfire and fireworks erupted in Beirut as the Islamic militant group's leader Sheik Hassan Nasrallah claimed a "strategic, historic victory."
But Israeli Prime Ehud Olmert also claimed success, saying the offensive eliminated the "state within a state" run by Hezbollah group and restored Lebanon's sovereignty in the south.
In northern Israel, residents emerged from bomb shelters, hopeful that the barrage of nearly 4,000 Hezbollah rockets that had rained down on towns and villages since July 12 had ended - for now. Stores shuttered for weeks reopened and some people returned to the beaches in Haifa, which suffered most from guerrilla attacks.
President Bush said Monday that Hezbollah guerillas suffered a defeat at the hands of Israel and he blamed the guerrilla group for the devastation. "There's going to be a new power in the south of Lebanon," he said.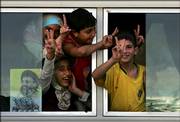 The conflict left nearly 950 people dead - 791 in Lebanon and 155 on the Israeli side, according to official counts. An estimated 500,000 Israelis and about 1 million Lebanese, or a quarter of the population, were displaced in the conflict, government officials said.
Peacekeepers needed
The odds of a durable end to the fighting depended on the quick deployment of the Lebanese army and an international force into the 18-mile-deep band of south Lebanon between the Litani River and the Israeli frontier.
A United Nations force that now has 2,000 peacekeepers in south Lebanon is to grow to 15,000 troops, and Lebanon's army is to send in a 15,000-man contingent.
Lebanon's Defense Minister Elias Murr said Lebanese forces would be ready to deploy north of the Litani River this week, but that was unlikely to satisfy Israel, which wants a force along the border to rein in Hezbollah.
Murr also said the current U.N. peacekeeping force known as UNIFIL would assume positions vacated by Israel before handing them over to the Lebanese army, and he expected international troops to begin arriving within the next 10 days.
The French commander of UNIFIL, Maj. Gen. Alain Pellegrini, told The Associated Press that additional troops were needed quickly because the stability of the cease-fire was fragile. The region is "not safe from a provocation, or a stray act, that could undermine everything," he said.
France and Italy, along with predominantly Muslim Turkey and Malaysia, have signaled willingness to contribute troops to the peacekeeping force, but consultations are needed on the force's makeup and mandate. Italian Foreign Minister Massimo D'Alema said Italy's troops could be ready within two weeks.
In Jerusalem, officials said Israeli troops would begin pulling out as soon as the Lebanese and international troops start deploying to the area. But it appeared Israeli forces were staying put for now. Some exhausted soldiers left early Monday and were being replaced by fresh troops.
Humanitarian groups sent convoys of food, water and medical supplies into the south, but the clogged roads slowed the effort. U.N. officials said 24 U.N. trucks took more than five hours to reach the port of Tyre from Sidon, a trip that normally takes 45 minutes.
Copyright 2018 The Associated Press. All rights reserved. This material may not be published, broadcast, rewritten or redistributed. We strive to uphold our values for every story published.