School starts this week in Lawrence and other area school districts, and that means something new for Natasha Naramore.
The pressure's on the pocketbook.
"You've got to curb yourself," she said, shopping for back-to-school supplies last week with 5-year-old daughter Rose Naramore-Winfrey, who'll be entering kindergarten at New York School. "It can get ridiculous."
Naramore said she wasn't about to rush out and buy an entire year's wardrobe in early August. Instead, she shopped around for all the necessary school supplies - including scissors, markers and the elusive Hand Hugger pencils - while grabbing the requisite new shoes, plaid dress and matching Hello Kitty backpack.
And the backpack will have to last.
"I told her she can get another one in third grade," Naramore said, her daughter grinning next to her.
Such sensibility is a welcome sentiment for Robert Baker, a credit counselor who sees families learn tough financial lessons when it comes to enrolling, outfitting and equipping students for classes, activities and everything else that goes along with the start of school.
Photo Gallery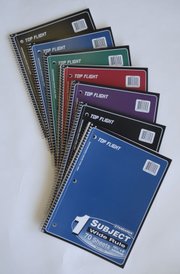 Back to school supplies
The average family is expected to spend $527 this year on back-to-school shopping, up nearly 19 percent from a year earlier, according to the National Retail Federation. A survey conducted for the federation shows that Midwesterners expected to ramp up their spending this year, after cutting back slightly in 2005.
Such increased spending comes despite rising gasoline, utility and other costs - financial drains that only heighten the need for people to plan as they prepare for school, Baker said.
"You've got to have a plan," said Baker, a certified credit counselor for Housing & Credit Counseling Inc. in Lawrence. "Have a budget, and plan around it. Impulse buying is a bane to a family budget and a boon for credit card companies everywhere."
So, just how can you satisfy the school needs for your children and keep the family's finances in the black? Baker offers a few suggestions:
¢ Involve the kids. "Have them involved in the decision-making process. Be honest with them: 'This is the amount we have budgeted for this; help me pick out what we can afford.' It's almost like giving a child a school-supply allowance, or a school allowance. They have more choice in the process.
Let the kids know how much the family has to spend, and then keep them apprised as you make your way through the supply shelves and shoe racks - and bring your calculator to keep track.
"In high school I gave my daughters a clothing allowance. And there's a practical reason for that: No parent can shop for a daughter in high school and get her what she thinks is fashionable, all the time. If you give them a clothing allowance, they can choose what they want."
Younger children can scan advertisements in search of good deals, circling prices for items they want or need. "Make it a fun experience."
¢ Shop in bulk. Buying large quantities of anything - from pencils to T-shirts or anything else - can reduce prices, whether it's at a warehouse club or traditional retailer. "You can all chip in and split it."
¢ Avoid using credit. Consider placing items on layaway. Some stores will let you put down 20 percent on an item, then pay the rest within six weeks. "That's great, because it's like a self-imposed cash budget. And it's actually a good idea. If you have to pay 80 percent in six weeks, you've got a pretty good chance of achieving that goal and you're out from under the school spending by October," when holiday spending demands start to crop up.
USD 497 data
View all the vital statistics for Lawrence public schools: Go »
¢ Take inventory. Buy only what you really need now. Lingering summer heat means jeans can wait for a month or two. And don't forget to check your closets or desk drawers. "Maybe you still have some folders that you bought last year for Johnny that Johnny never used but Mary would like for this year."
¢ Keep receipts. On everything. "You want to be able to take things back," or else you run the risk of getting stuck with an expensive but useless item.
¢ Employ "smart plastic." That is, consider buying prepaid cell phones or even phone cards. Instead of co-signing for a teen's credit card, buy preloaded cards for stores, or even restaurants that they can drive to for lunch. "That way you're limiting your costs. It's not going to be an abyss of debt."
¢ Go online. Check out prices on the Internet, and consider making purchases if the price is right and shipping charges are nonexistent or minimal. "If nothing else, you'll save sales tax."
Naramore and her husband, Jeremy Winfrey, managed to spend about $60 on school supplies Friday, and figured they were doing well. They have another daughter, Sophia, who will be in kindergarten next year, and the biggest hit of all will come when Winfrey himself enrolls.
He's in school at Kansas University.
"That's a lot more expensive," he said.
Copyright 2018 The Lawrence Journal-World. All rights reserved. This material may not be published, broadcast, rewritten or redistributed. We strive to uphold our values for every story published.