Her mother has been killed, and her father is in prison for the murder.
But on Friday, 7-year-old Ciara Ross got a new parent and a new last name during an adoption ceremony in Douglas County District Court. Ciara was adopted by her aunt Heather Ross, a younger sister of Ciara's deceased mother, Carmin Ross.
Ciara wore a sparkly pink dress and heels and carried a new teddy bear given to her as an adoption day gift. She was accompanied by members of her extended family, as well as local attorneys and sheriff's officers who worked with the family after Ross' stabbing death in November 2003 at her home north of Lawrence.
"This is one of the happiest days that we've all had in a long time," Heather Ross said after the ceremony.
With the stroke of a pen, Judge Robert Fairchild changed Ciara's name from Ciara Ross-Murray to Ciara Ross, dropping the last name of her father, former Kansas State University professor Thomas E. Murray. He was convicted of murder in the same courtroom in March 2005 and later sentenced to life in prison.
"We're here for a happy occasion for once," Fairchild said at the beginning of the hearing.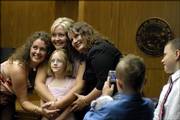 "Heather, you have a new daughter, and Ciara, you have a new adopted mother. Congratulations," the judge said before those in the courtroom burst into applause.
Ciara, who's about to start second grade, was attending preschool in Lawrence at the time Carmin Ross' body was discovered in her home in the 1800 section of East 1150 Road. Ross had divorced Murray in Manhattan and moved to Lawrence in an attempt to create a new home for Ciara.
Ross' plan was to move to California with her new love interest. Her death came just as she was preparing for a child-custody battle with Murray.
Murray, a linguistics expert, remained free for nearly a year before his arrest in October 2004. There was little physical evidence to link him to the scene, and prosecutors alleged he tried to plot the perfect murder and cover up evidence.
He was convicted after a suspenseful monthlong trial.
Since Murray's conviction, Ciara has been living in Lapel, Ind., where much of her extended family lives, including her new mother and her grandparents, Danny and Judi Ross. She does not have any siblings, but she lives close to two young cousins who have become her playmates.
Murray had his parental rights severed earlier this summer, and he did not contest the adoption plan, the Rosses said.
Ciara hasn't had any contact with her father since his arrest, but she regularly asks questions about him. She once told family members she had three "mysteries" in her head: "Who hurt my mommy?"; "Did my daddy do it?"; and "Is he a good person or a bad person?"
"We've talked with her about it only from the standpoint of answering her questions," Danny Ross said Friday. "We have never made any negative comments with regard to her dad. I think she's just still sorting through it. As she gets older, she asks more in-depth questions. : There's a lot going on that she doesn't really understand."
For now, the family has one priority: celebrating.
"We're planning a great big party for next Saturday," Heather Ross said. "We're having clowns and moonwalks and dunk tanks."
Copyright 2018 The Lawrence Journal-World. All rights reserved. This material may not be published, broadcast, rewritten or redistributed. We strive to uphold our values for every story published.