Bonnie seemed a little upset with me as I watched TV.
"Look at his shoes. Dad, you need new shoes! Go get new shoes. Mom?"
No, I couldn't remember how old they were. OK. Yes, part of the heel tread was missing on my right sole.
I didn't tell them, but maybe that's why my right foot did hurt.
"We'll go tomorrow," my wife said.
Bouncing along
Before we went shoe shopping, I did a little research.
New Balance started selling a new shoe Tuesday that doesn't have springs, but uses flexible struts - the NB Zip.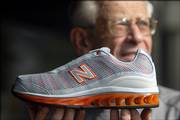 The shoes have several D-shaped holes that run through the heel to the midsole. The struts bend on impact, then spring back. The shoes cost about $85.
Dick Wilson, a runner who works part time at Francis Sporting Goods in downtown Lawrence, told me he had tried on a pair of Zips recently.
"It's very comfortable," Wilson said. "It's light in weight. And it's extremely cushioned for shock absorption."
He said the cost wasn't too high, considering it was a new shoe model - $85.
"I don't think it's going to be something that replaces the regular shoes and the cushioning system in shoes," he said. "I just think it's another option."
He said the NB Zip struts were similar to shock absorber systems that are used in the Adidas a3 Microride and the Nike Shox models.
Springs
Upstart shoe company Spira Footwear created a controversy a few years ago with a shoe that has springs instead of just cushions in the soles.
The shoe actually has been banned from many competitive races because it violates a USA Track & Field rule that doesn't allow any springs to be fitted into shoes.
The company, of course, thinks it's a dumb rule. And it has been trying to use the ban to promote its trademarked WaveSpring technology.
Runner's World Magazine has given high marks to the Spira Genesis II Trainer (about $130). The shoe has one spring in the heel and two in the front.
Unlike traditional heel cushioning, the coiled springs don't break down and are supposed to return 97 percent of the impact energy.
Computer chip
I also ran across some shoes with a computer brain in the soles: the Adidas_1.1, which cost about $250.
They're designed to provide just the right amount of cushion. The chip inside the shoe operates a small motor in the sole. The motor moves a tiny tension cable, making the cable slightly tighter or looser.
The chip takes about a thousand readings a second to get the cushioning just right. The battery that runs the motor is supposed to last for 100 hours of running, or about the life expectancy of the shoe.
iPod connection
Nike also recently introduced some high-tech shoes. The Nike+ models march to a different beat - they lace you up wirelessly to an iPod nano.
The only downside is that you have to buy three items to make it work: the shoes, the sport kit and the nano itself.
There are six Nike+ running models for men and seven models for women ($85-$100).
The sports kit ($29) includes the transmitter/sensor that fits in your shoe, plus a receiver that connects to the bottom of your nano. The nano costs $149, making the total cost about $270.
Wilson, who had a couple of pairs in stock, showed me that underneath the cushion in the sole of the Nike+ is a small pocket that will hold a wireless sensor/transmitter.
As you run, the sensor sends information to the iPod nano you carry.
Like a pedometer, the sensor relays your distance, time, pace and calories burned in your iPod nano's LCD display.
It also plays real-time spoken feedback through your ear buds. And you can connect to a special Web site to keep track of your past runs and even "race" other runners.
Down the road
"What IS that?"
Bonnie looked puzzled when she saw me with my leg up in front of the TV. I had a couple of bags of frozen vegetables wrapped around my ankle with an Ace bandage.
"I messed up my foot during the Crosstown Unity Run," I told her, referring to Saturday's 10K run from Free State High School to Lawrence High School.
I admitted that she was right. It probably was my old shoes that did me in. But I can't buy new ones until the swelling goes down.
Copyright 2018 The Lawrence Journal-World. All rights reserved. This material may not be published, broadcast, rewritten or redistributed. We strive to uphold our values for every story published.