A new Lawrence Memorial Hospital program designed to improve how quickly patients see a physician is more popular than expected, hospital leaders reported Thursday.
Staff members celebrated the one-year anniversary of LMH's hospitalist program, which employs four physicians who practice only at LMH.
During the first year of the program, the four physicians have seen 2,200 patients - nearly three times the more than 800 people that the hospital had projected when it created the program.
"I think patients really have appreciated it because they don't have to wait for their doctor to come from their office or home," said Dr. Charles Yockey, who oversees the program.
Hospitalists treat a variety of cases, but most of the patients are people who come to the emergency room and need to be admitted for an overnight stay at the hospital. Hospitalists only see the patients if their primary doctor consents.
Yockey said many doctors were participating in the program because it saved them valuable time traveling between the hospital and their offices.
Yockey estimated that hospitalists generally begin treating patients within 30 minutes of their arrival at the hospital. The lengths of hospital stays for patients being treated by hospitalists also were shorter - 2.93 days compared with a hospitalwide average of 3.75 days. Yockey said that likely was because patients spent less time waiting for doctors to make rounds and perform checkups.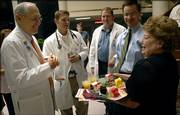 Hospital leaders on Thursday also celebrated the one-year anniversary of a high-tech imaging program. The Picture Archive Communication System allows doctors to look at X-rays and other medical images online rather than relying on films.
David Sostarich, director of the hospital's imaging services department, said the new technology allowed doctors to easily view X-rays and images from their home or office. The program also allows several doctors to have a teleconference and discuss an image.
"Previously, we usually just had the one film and whoever had it was the only person that could look at it," Sostarich said.
Sostarich said the program cost the hospital about $760,000 to implement but is expected to save LMH about $300,000 per year in film costs.
Copyright 2018 The Lawrence Journal-World. All rights reserved. This material may not be published, broadcast, rewritten or redistributed. We strive to uphold our values for every story published.