Editor's note: This is one in a series of articles featuring the Lawrence soccer teams that participate in the Premier league of Hearland Soccer Assn.
What do you do when Club level soccer just isn't enough? Do you step back and decide the sport has nothing more to offer you? Or do you do what U12 Kaw Valley Force Blue coach Kyle Glick and his team of rookies did? Create your own Premier level team.
"Only two of our kids have played at the Premier level before this team," Glick said. "All the other kids came from the Club level. They wanted to try out the next level of play. So we made a new team."
It was a first season to be reckoned with. Glick said the fall season was rough for his team, finishing the season with a losing record. Not to be daunted, KVF Blue hiked up their shin guards and spent the winter practicing.
"We played in a indoor Futsol league this winter," Glick said. "We played in a lot leagues in the winter. It takes a while, but I think the guys are starting to get up to par."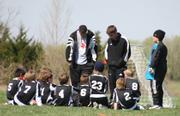 Unlike the Recreation level of soccer, the Premier teams focus less on the basics and more on specific traits of the game. KVF Blue has begun to focus on tactical movement.
"Soccer is a thinking sport," Glick said. "There's no point you shouldn't be involved. They need to be thinking: 'Where do I need to go? Where do I need to be?'"
He said what the members of his team had to realize was that the level of competition combined with the intensity of play is completely different at this level. It's not just off the field that the dedication of these athletes is tested, their level of commitment to the sport is also put through the paces.
Despite all these hurdles, the KVF Blue team is optimistic about their season and the Premier league in general.
"The level of work is completely different," Glick said. "Both for the kids and the parents. It really makes me appreciate what my parents did for me when I was little. It takes a huge chunk of time to travel with your kid's team."
Copyright 2018 The Lawrence Journal-World. All rights reserved. This material may not be published, broadcast, rewritten or redistributed. We strive to uphold our values for every story published.