Phoenix — It's just a man, three tennis balls, and John, Paul, George and Ringo singing "Carry That Weight."
Yet the 4 1/2-minute video of Chris Bliss juggling to the last three songs from The Beatles' "Abbey Road" album has become an Internet sensation.
Nothing about the video is shocking, scandalous or outrageous. Bliss doesn't wear gaudy costumes, and he doesn't toss knives, axes or chain saws.
"It really kind of works in its absolute, utter simplicity - its kind of stripped down Zen-like quality," said Robert Thompson, a Syracuse University professor and a leading authority on American pop culture.
In about 40 days, the video was viewed an estimated 20 million times, said Brian Reynolds, chief technical officer at VideoBook-mark.com, the Redondo Beach, Calif., company that hosted the video before Bliss took it to Google on April 6. Google would not release download or traffic numbers on the video.
"I haven't seen anything like it yet," said 41-year-old Geoffrey McPherson of Gallatin, Tenn., who received an e-mail March 1 with a link to the video and since has forwarded it to 60 other people.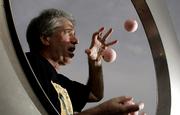 Other video clips that became Internet sensations have included a digital dancing baby from 1997, a New Jersey teenager lip-synching to a Romanian techno song and several parodies of "Brokeback Mountain."
Ask for what makes the juggling video so appealing, Bliss said: "There's something : I don't know. It's hard to put your finger on it."
Bliss, a standup comedian from Phoenix, said he posted the video on his Web site four years ago for corporations looking to hire entertainment for company parties. Bliss figures someone was surfing the Web a few months ago, found the video and forwarded it, and so on and so on.
Since January, he has received hundreds of e-mails a day. They have come from aid workers in African refugee camps who say the video brought them joy and hope; a man who was unemployed for two years but was inspired to re-enter the work force after watching the clip; and others who say they watch it to get a boost before their work day, Bliss said.
The attention has put Bliss in demand, and he has made TV appearances and given interviews. But he has turned down many offers. Much of his time these days is spent on his quest to erect monuments of the Bill of Rights in every state capitol.
He said the response the video has gotten is overwhelming. But he has no complaints.
"When happiness comes knocking at your door, open the door and don't ask too many questions," he said.
Copyright 2018 The Associated Press. All rights reserved. This material may not be published, broadcast, rewritten or redistributed. We strive to uphold our values for every story published.