A two-alarm blaze tore through part of a rental home near Kansas University campus late Monday night.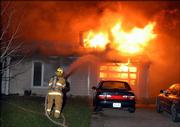 Lawrence-Douglas County Fire & Medical officials responded to a call around 10:40 p.m. Monday when neighbors saw flames rising from the home's garage at 2003 Emerald Drive.
The fire ate through the home's roof and may have spread to other parts of the house as well.
Three KU students lived in the house. No one was injured in the fire.
Fire officials had not yet determined the cause of the blaze, although Westar Energy crews were on the scene to shut power off at the house.
The residents said that the contents in the house were insured, but gave no other information as firefighters continued to smother the fire a half-hour later.
Copyright 2018 The Lawrence Journal-World. All rights reserved. This material may not be published, broadcast, rewritten or redistributed. We strive to uphold our values for every story published.