Lake Charles, La. — Hundreds of Hurricane Katrina evacuees in Texas and other states boarded buses and traveled to Louisiana on Monday to cast early ballots in New Orleans' storm-delayed election for mayor.
The election officially is April 22, but residents scattered around the country by the storm will be able to vote all week at satellite voting centers set up in Lake Charles, Shreveport, New Orleans and seven other cities around the state.
"We need to be a part of the political process," said Cara Harrison, an evacuee from the flood-devastated Ninth Ward.
By the end of the first day of voting, an estimated 1,600 had cast early ballots, including nearly 1,000 in two New Orleans locations.
In Houston, about 110 hurricane evacuees boarded buses for a two-hour trip to Lake Charles. Many said they wanted to vote in person, rather than using mailed-in absentee ballots, because mail delivery in New Orleans remains unreliable.
"This way, I know it will be counted," said Cavada Smith, 50, who lives in a Houston apartment after being flooded out of a New Orleans housing project.
Several voters said they did not expect to return to New Orleans before the end of the year, but made the long trip because the election will determine much of the city's future.
"I would have walked to New Orleans if I had to. I would be less than a good citizen if I wasn't out here doing this," said Elaine Stovall, 62.
Another voter, Gilda Burbank, said casting a ballot reminded her that she still has a say in her hometown. "It makes me feel that, at long last, something is going to happen. It's the start of getting my life back," she said.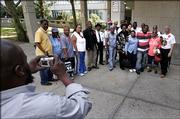 About 300 others in cities across Texas, Georgia, Arkansas and Mississippi were expected to join bus caravans back to their home state to cast ballots, said Ginny Goldman with the Association of Community Organizations for Reform Now, or ACORN, which organized the trips.
The election was originally scheduled for February but was postponed because of the damage and dislocation done by Katrina.
New Orleans had nearly a half-million people, about 70 percent of them black, before Katrina. But fewer than 200,000 have returned, most of them white. Some black leaders tried to postpone the balloting, fearing the black community would lose political power.
Federal observers are monitoring the early voting at parish offices in Monroe and Shreveport, the Justice Department said.
Twenty-two candidates are challenging the re-election bid by Nagin, a black man criticized in some quarters for his response to the hurricane. The challengers include Lt. Gov. Mitch Landrieu and Ron Forman, an executive credited with turning New Orleans' zoo into a national showcase. Both men are white.
If no mayoral candidate gets a majority in the election, the top two finishers will compete in a May 20 runoff.
Copyright 2018 The Associated Press. All rights reserved. This material may not be published, broadcast, rewritten or redistributed. We strive to uphold our values for every story published.