The man who led efforts to create a growing tribute to Rotary International received the Lawrence club's highest honor Monday.
George Woodyard, fundraising chairman for the Lawrence Rotary Arboretum, received the Paul Harris Achievement Award from the Lawrence Rotary Club during a luncheon attended by about 100 club members and guests at Hereford House.
"This (award) would not have happened without the arboretum project, and that was a group project," Woodyard said. "I hope you're proud of your arboretum. I know the city is proud of it."
Woodyard's efforts generated $50,000 for the arboretum project, a 14-acre park with about 160 trees near the intersection of 27th Street and the South Lawrence Trafficway. The arboretum, on land leased from the U.S. Army, is between the Clinton Lake Softball Complex and YSI Sports Complex.
At Woodyard's request, the club's board this month agreed to support formation of a Friends of the Arboretum organization. The group will be charged with generating volunteer and financial support on a citywide basis.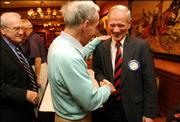 Woodyard retired last year from Kansas University, nearly 40 years after he came to campus as an assistant professor in Spanish and Portuguese. He became KU's first dean of international studies and programs and served as associate vice chancellor for research, graduate studies and public service, among other administrative responsibilities.
Glee Smith, chairman of the club's awards committee, described Woodyard's contributions to the club as "monumental," especially those involving the arboretum. Woodyard attended the luncheon with his wife, Eleanor, whom he had taken to a Chicago arboretum for their first date.
"Certainly that must have marked him for the chairmanship of our arboretum project : some 46 years later," Smith said, drawing laughs.
Winners, listed in alphabetical order, of the Paul Harris Achievement Award, presented by the Lawrence Rotary Club to club members. The award, named in honor of the founder of Rotary International, recognizes members who have demonstrated commitment to the club's ideals and objectives.
The winners: David Ambler Kent Atkins Judy Billings Henry "Hank" Booth Jerry Bottenfield John "Jack" Brand Mark Buhler Ed Carter John Conard Sr. Proctor Crow Jr. Ned Cushing Stanley DeFries Martin Dickinson Jr. David Gaumer Bob Georgeson Paul Getto Thomas Groene Alan Hack Ted Haggart Jeffrey Heeb Jim Henry David Hiebert Stephen Hill Robert "Bud" Jacobs Robert "Bob" Johnson Donald Johnston Paul Kincaid J.D. King R. Keith Lawton Warren Lesh Edward Manda III Philip McKnight Gene Meyer J.W. "Buck" Newsom James Owens John Peck William Penny Robert Piller James Ralston Vicki Randel Philip Rankin William Salome III Robert Sarna James Schwartzburg Stanley Shumway Dolph Simons Jr. Dolph Simons III Donald Tiffany Richard Wagstaff Jr. Chuck Warner Robert Wells George Woodyard
Copyright 2018 The Lawrence Journal-World. All rights reserved. This material may not be published, broadcast, rewritten or redistributed. We strive to uphold our values for every story published.