Louisville, Ky. — Louisville's national-championship dreams evaporated in a blowout loss to South Florida.
Now, the 24th-ranked Cardinals (2-1) face the coach who first voiced those aspirations nearly two decades ago.
Saturday, Howard Schnellenberger will lead the Florida Atlantic team he started from scratch into the $63 million stadium he helped build to challenge the Louisville program he turned into a winner in nine years as coach.
"My emotions are going to be controlled by the game," said the 71-year-old Schnellenberger, a Louisville native. "I don't think I'm going to be nostalgic."
The pipe-smoking coach with the silver mustache launched Florida Atlantic's program in 1998. When Schnellenberger came to Louisville in 1985, the Cardinals were in a similar situation, six straight losing seasons having made them a college football afterthought.
"I see similarities with us now and Louisville then, because Louisville was almost a team without players," he said.
Schnellenberger arrived in Louisville fresh off leading Miami to its first national championship. But he drew plenty of smirks when he declared early in his tenure that Louisville was "on a collision course with the national championship." He said his boast was based on his days as a tight end under Bear Bryant at Kentucky, when the Wildcats were Southeastern Conference contenders.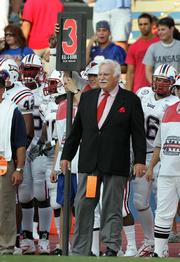 "I knew it could be done in the state of Kentucky because I saw it," he said. "I didn't see any reason why it couldn't happen in Louisville."
The Cardinals were then playing in ugly, cavernous Cardinal Stadium, a converted baseball venue with beat-up artificial turf. Schnellenberger still convinced recruits that the highest goals were reachable.
"He makes believers out of those guys who don't believe," said Louisville quarterbacks coach Jeff Brohm, who played for Schnellenberger from 1990 to 1993. "That's one of the reasons he's been successful."
Schnellenberger unveiled plans for a new stadium and mapped out a strategy to get the Cardinals into the Big East - the conference Louisville joined this year. He also pushed to resurrect a series with Kentucky, which restarted in 1994 after a seven-decade hiatus.
"He should feel very good about what he put into place," said Bill Olsen, who was Louisville's athletic director from 1980 to 1997. "He set the stage for us turning the corner."
The Cardinals weren't tied to any league when Schnellenberger arrived, and he wanted to keep that independent status so he could beef up the schedule.
Louisville lost to heavyweights like Miami, Virginia Tech, Florida State and Boston College in his first two seasons, but progress soon followed.
The team went 3-8 his second year, 3-7-1 in his third and 8-3 in 1988, the program's first winning record in 10 seasons. Louisville beat Alabama in the Fiesta Bowl after the 1990 season then won the Liberty Bowl three seasons later.
By then, Schnellenberger was spearheading fund-raising efforts to improve the stadium.
"He was a leader on the football field, but he was also a leader in the community, getting the leadership and the fans to believe in his vision," Olsen said. "He deserves a lot of the credit for getting us to where we are today."
Copyright 2018 The Associated Press. All rights reserved. This material may not be published, broadcast, rewritten or redistributed. We strive to uphold our values for every story published.