Richard Norton Smith, historian, speechwriter, TV pundit and the first permanent director of the Dole Institute of Politics, returned to Lawrence on Wednesday for the first time since his 2004 departure to lead the Abraham Lincoln Presidential Library and Museum in Springfield, Ill.
He was here to give a preview of his upcoming book on Nelson Rockefeller, "On His Own Terms."
The former New York governor and presidential candidate who died in 1979 was "a pragmatic visionary, if that isn't too much of an oxymoron," Smith said. "He was a complex individual," whom even by a well-sourced biographer will never fully know.
Smith said he's had access to a 5,000-page diary left by Rockefeller's doctor and 1,000 pages that Rockefeller prepared for his own unfinished memoir.
Smith talked about his book during a noon session over pizza with students. In the evening, he read from the upcoming book's 33-page prologue to an appreciative crowd of about 150 at the Dole Institute.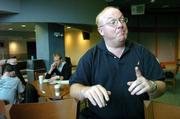 "It's a history of the time. It's also a history of the Republican party and the transformation of the party," Smith said, describing the book, which begins with a vivid account of the 1964 Republican convention in San Francisco.
Rockefeller, whose recent divorce was considered by political operatives to be fatal to his presidential aspirations, gave a polarizing speech to a raucous audience of delegates and was booed. The GOP nomination that year went instead to Arizona conservative Barry Goldwater, who then lost to Lyndon Johnson in a landslide.
Smith said the convention was "a pivotal moment in the GOP," in which the party lurched to the right.
"Now, Gerald Ford is a dangerous left-winger in the Republican Party," Smith said. "Bob Dole is flirting with socialism. And Nelson Rockefeller is the Anti-Christ."
In response to a question from the audience, Smith said he thought Rockefeller would "be bewildered" by the current state of the GOP.
He's been working on the book for five years and still has a few years to go.
Rockefeller, vice president under Gerald Ford, was Smith's first political hero. Smith said he met the politician while working as an intern in the Ford White House.
For Smith, writing about someone is like a marriage.
"If it's unhappy, it's awfully unhappy," he said. "I can't imagine writing about someone I detested because of the intimacy that's involved."
Rockefeller, Smith said, is never dull.
"He's the closest thing to a Renaissance man that I can think of in a modern politician," he said.
Smith was the Dole Institute's first permanent director, leading the Institute from 2001 to 2004. Though Smith once complained of friction with KU's bureaucracy, he said he has fond memories of his stint in Lawrence.
KU supported the unorthodox vision for the Institute and unorthodox building, he said.
"It's not your typical academic box," Smith said. "It's a building both academic and popular."
Smith left Lawrence to help open the Lincoln Presidential Library and Museum. That job has required hiring staff, planning a dedication and "fending off ill-informed criticisms from people who hadn't seen the finished product," Smith said.
He said criticism, mainly surrounding "rubber Lincolns," has ended now that the library and museum are open.
"We're refuting the notion that people don't care about history or that history has to be dumbed down," he said.
He expounded on the importance of history.
"History enlarges our lives," he said. "History takes us out of the pettiness and narrowness of life. : It makes us realize that what we think has never happened before may have happened a whole lot of times before, and in that sense, it's a profoundly optimistic field."
After Smith's evening reading at the Dole Institute, he was presented with a cake because his birthday is Sunday. The audience sang "Happy Birthday" to him before he blew out the candles.
Smith beamed and said he was happy to be among "so many old friends."
Copyright 2018 The Lawrence Journal-World. All rights reserved. This material may not be published, broadcast, rewritten or redistributed. We strive to uphold our values for every story published.