Washington — Get ready for some more color in your wallet.
The $10 bill is set to become the latest currency denomination to be jazzed up with a splash of colors to complement the greenback's traditional green.
It's all part of the government's effort to stay ahead of counterfeiters and the ever-more-sophisticated devices at their disposal to make fake money.
Treasury Secretary John Snow and officials from the Bureau of Engraving and Printing - the agency that prints all U.S. currency - were on hand Wednesday for the unveiling of the newly redesigned $10 note during a ceremony on Ellis Island in New York harbor.
The $10 bill becomes the third denomination to get a color makeover, following the $20 bill in 2003 and the $50 bill last year.
Don't look for the more colorful $10 to show up at your local ATM machine right away. The bills will not go into circulation until early next year, probably February or March. But the government was eager to publicize the new design so that people can prepare for the changes.
The redesign will be similar to the changes made to the $20 and the $50. There will be the addition of subtle background colors on both sides of the note to go with the traditional green and black.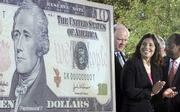 Each denomination has its own color, to make finding the right bill in your wallet easier. For the $20, the additional colors were blue, peach and a different shade of green while the $50 bill featured the added colors of blue and red.
Outside of the colors, the $10 note will get an added "symbol of freedom" that will appear on one side of the portrait.
Alexander Hamilton, the nation's first Treasury secretary, will remain on the front of the $10 bill. The back will continue to feature the U.S. Treasury building.
All of the new makeovers follow a wave of changes introduced in the 1990s to strengthen protections against counterfeiters. Those changes included the addition of a plastic security thread embedded in the bills and watermarks - visible when held up to the light.
And officials promise that America's currency will undergo makeovers every seven to 10 years to keep ahead of counterfeiters armed with the latest advances in computer technology that make digital counterfeiting easier.
"The ability to reproduce photographic images at work or at home on computers has really raised the bar as far as our challenges," said Thomas A. Ferguson, director of the engraving bureau.
The next bill to get the color treatment will be the $100 bill, which is expected to be redesigned in 2007. At present, there are no plans to add color to the $1, the $2 or the $5 bills.
Copyright 2018 The Associated Press. All rights reserved. This material may not be published, broadcast, rewritten or redistributed. We strive to uphold our values for every story published.