Eric Brock was looking for a silver lining after a long Saturday night, and the Haskell Indian Nations University football coach finally came up with one.
"I think we found an identity : throwing the rock," Brock said.
Quarterback Kaleb Harris put the ball in the air 43 times, but the Fightin' Indians couldn't score during the last 31â2 quarters and dropped a 29-10 decision to Friends University at Haskell Stadium.
Harris completed 20 passes, including a 21-yard touchdown toss to wide receiver Cody Wilson midway through the first quarter, but Harris also was intercepted four times, and one of those was returned for a TD.
"He was a little inconsistent," Brock said of Harris. "He'd be great one play and indecisive on the next play."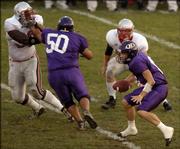 Meanwhile, the Indians had no running game - 26 attempts for a meager 39 yards - and Haskell was whistled 14 times for an unsightly 130 penalty yards.
Haskell actually led this one, 10-7, thanks to a 29-yard field goal by Randy Cozad and Harris's TD toss to Wilson, but the lead evaporated just 12 seconds later when Friends' J.R. Philips returned the ensuing kickoff 80 yards for a touchdown.
Haskell's defense, solid all season, surrendered just one conventional touchdown - a one-yard run by tailback Micah Tipton in the fourth quarter. Otherwise, the Falcons scored on a halfback flea-flicker pass, on Philips' kickoff return and on Tanis Ready's 38-yard return of a Harris interception.
"Big plays turned into points for them," Brock said.
Haskell's biggest play was a 24-yard pass from Harris to wide receiver Hunter Smith, who finished with a team-high seven receptions for 98 yards. Haskell's longest run was a 14-yard gallop by tailback Roland Chereposy.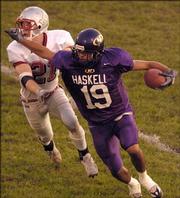 Like Haskell, Friends was guilty of four turnovers - three fumbles and an interception. Haskell mounted scoring drives after two of the fumbles, but the pass theft by cornerback Cory Murphy was in the end zone and resulted in a touchback.
HINU squandered Friends' other lost fumble when Cozad's 39-yard field-goal attempt in the third quarter went wide left. Cozad also missed from 42 yards out on the last play of the first half.
All the missed opportunities and repeated misfires had to be deflating, but junior defensive tackle Blaine Wise stressed he believes the Indians' offense will turn the corner.
"They work hard every day in practice, and they're leaps and bounds better than they've been," Wise said. "The defense just needs to get the ball in their hands more and in good field position."
Haskell's defense held up well after middle linebacker Antonio Hayes, the team's top tackler, went out because of a knee injury at the 3:32 mark of the first quarter.
The extent of Hayes' injury won't be known until an MRI is performed, and Brock said that could take as long as two weeks because of government red tape.
Haskell now has dropped two in a row after winning its first two and will begin Central States Football League play against Southern Nazarene at 2 p.m. Saturday at Haskell Stadium.
"We're 2-2 and we're starting over," Brock said. "Our first conference game is next and we need to take a breath and get better."
Copyright 2018 The Lawrence Journal-World. All rights reserved. This material may not be published, broadcast, rewritten or redistributed. We strive to uphold our values for every story published.