Kansas University golfer Gary Woodland battled an 84-man field, an hourlong rain delay and impending darkness to take a two-stroke lead Monday at the Kansas Invitational at Alvamar Golf Course.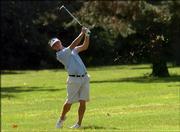 Tied for the lead at 69 after the first 18 holes, Woodland's 6-under-par 66 helped push the Jayhawks into first place heading into today's final round.
"Gary finished amazingly," KU coach Ross Randall said. "The way he played the last few holes almost in total darkness was really, really good."
Woodland's last three holes included a chip-in for eagle on the par-5 16th.
"I had a lot of momentum from the hole before, and then I carried it over to the next hole," Woodland said. "It was just one of those shots. I hit a good shot, and luckily it went in."
Woodland's 66 tied Tulsa's Ryan Henry for the best round of the tournament on the par-72 layout. Woodland said not focusing on the other golfers would be the key to success in his final round.
"I gotta come out and play my game. I can't worry about anything else," Woodland said. "I'm going to go out and play aggressive and put up another good score if I can."
Fellow KU golfer Zach Pederson also improved his standing with a stellar second round. Pederson followed a 71 in the first round with a 69 to move into a tie for fourth at 140.
"I just hit the middle of the greens and hit fairways, and putts will drop eventually ... just be patient," Pederson said.
Although Woodland and Pederson improved their scores in the second round despite the rain, they both said it had a negative effect on their play.
"Coincidentally, I came back out and had a tee shot on No. 7, a par three, and that was my only bogey on the day," Pederson said. "It's tough having a 210-yard shot after you've been sitting inside for an hour. No doubt it had an effect."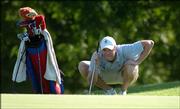 Thanks to the delay, the threat of nightfall was on Randall's mind.
"I was optimistic the whole way - a lot of people weren't - but I thought, 'If we just keep going and keep plugging along we can get done,' because you want to have the last day of the tournament where the leaders are playing together," Randall said. "I'm really pleased that everybody stepped to it and got the job done."
The Jayhawks will attempt to win their third straight Kansas Invitational in today's final round, which will begin at 8:30 a.m.
"We've played this course so many times that you can birdie every hole. We've seen every shot out there," Pederson said.
Copyright 2018 The Lawrence Journal-World. All rights reserved. This material may not be published, broadcast, rewritten or redistributed. We strive to uphold our values for every story published.