SPRINGFIELD, MO. — When school lets out at Weaver Elementary, a crush of cars forms to pick up children. But inside the cafeteria, Julie Sigloch, Susan Hayes and Cindy Schaeffer are lining up a fleet of feet, more than 30 kids who've signed up for a route with Weaver's Walking School Bus. "Drivers" wear bright vests and carefully check off the names of their "riders" on attendance sheets.
Fifth-grader Crystal Juarez was among those to get on board. "It just looked like fun to be walking," she said.
When everyone is accounted for, the group gets under way, often single file along narrow sidewalks, with parents in front and back.
The only wheels that rumble are the ones on the heavy packs several of the children pull behind themselves.
Organized ways of walking to school are a trend that has been promoted around the country by groups like the Centers for Disease Control as a way to foster good health, safety and social activity.
"We wanted to do it for safety, but the exercise they get is awesome, too," said parent Shawn Glynn. His wife, Laura, researched the idea with Springfield police officer Angela Burgess when it became evident that Fairbanks Elementary would close, sending students to Weaver Elementary.
While other neighborhoods may organize less formal systems of walking kids to school safely, the Weaver group sought to head off any problems by obtaining signed consent forms from parents of participating kids, and obtaining criminal background checks for volunteers, Sigloch said.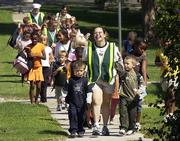 The members also found groups willing to support their walking school bus. A hospital donated pedometers so children could keep track of how many steps they were walking. Another organization printed T-shirts showing a bus with feet.
Burgess said the group then studied possible walking routes, though it had to be flexible because it expected kids to join after school started.
"We wanted to make sure there weren't holes or trees or shrubbery in the way," she said.
The kids do get pretty sweaty in the hot weather, said Sigloch, but they don't seem to mind.
"We do preach to kids about having water bottles," she said.
The Weaver group hopes to help other families start their own walking school buses, but first there are a few wrinkles to iron out.
Interest in the bus grew faster than volunteers - 40 kids walked on a recent school day - and with such large numbers, the group would like to have more adults volunteer to walk in the middle of the line, Sigloch said, plus more who can substitute.
It is also ordering more of the incentive prizes for kids who joined later.
Sigloch said she walked 20 miles last week.
"It's a great workout for us adults," she said. "We are benefiting as well."
Copyright 2018 The Lawrence Journal-World. All rights reserved. This material may not be published, broadcast, rewritten or redistributed. We strive to uphold our values for every story published.