Four Kansas University alumni have received the service award honoring the man who was known as "Mr. KU."
Winners of the 2005 Fred Ellsworth Medallion were William Docking, of Arkansas City; Sally Roney Hoglund, of Dallas; A. Scott Ritchie, of Wichita; and Gale Sayers, of Chicago. The medallion is the university's highest honor for volunteer service.
"It's a great honor," Sayers said. "It really is."
The medallion was created in 1975 to honor Ellsworth, a 1922 KU graduate who served as executive secretary of the Alumni Association for 39 years until retiring in 1963.
A committee of representatives from the Chancellor's Office and the alumni, athletics and endowment associations meets annually to choose the winners:
¢ Docking, chairman and chief executive officer of The Union State Bank in Arkansas City, received a political science degree in 1973 and an MBA and law degree in 1977. While at KU, he was inducted in Phi Beta Kappa, and in 1977 he received the School of Law's Samuel Mellinger Leadership Award.
In June, Docking completed his most recent term as a member of the Kansas Board of Regents, which he joined in 1995 and chaired from 1998 to 2000.
Docking is a trustee and member of the executive committee for the KU Endowment Association, a KU First major donor and member of the Chancellors Club.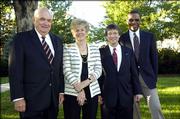 Docking is the eldest son of the late former Gov. Robert Docking, a 1948 KU alumnus, himself an Ellsworth Medallion winner as well as a Distinguished Service Citation honoree.
¢ Hoglund received a bachelor's degree in political science in 1956.
She is a joint life member of the Alumni Association with her husband, Forrest Hoglund. She is a member of the Jayhawk Society and co-chairwoman of the advisory board serving Women Philanthropists for KU. She was a member of the steering committee for the KU First capital campaign. Her husband was chairman of KU First.
The Hoglunds' gifts have helped to build the Hoglund Brain Imaging Center at KU Medical Center and the stained-glass American flag at the Dole Institute of Politics.
¢ Ritchie, chairman of Ritchie Exploration Inc., also maintains business interests in ranching, cattle feed and Pizza Hut franchises.
He received a geology degree from KU in 1954. He is a joint life member of the Alumni Association with his wife, Carol Swanson Ritchie. The couple created the Ritchie Alumni Programming Fund.
Ritchie is a trustee and chairman of the property management committee for the Endowment Association. He is a KU First leadership donor, member of the Chancellors Club and Athletics' Williams Educational Fund.
Ritchie said he was honored to receive the award.
"I'm very humbled by it," he said.
¢ Sayers received an education degree in 1975 and master's degree in education in 1977, both from KU. Sayers played for the Chicago Bears from 1965 to 1971.
He is president and CEO of Sayers 40, a national computer equipment and supply business in the Chicago area. He is a life member of the Alumni Association and past member of the board of directors.
He chairs the Gale Sayers Golf Tournament, a benefit for the School of Education and is a member of the K-Club for former athletes.
Copyright 2018 The Lawrence Journal-World. All rights reserved. This material may not be published, broadcast, rewritten or redistributed. We strive to uphold our values for every story published.