RENTON, WASH. — As Boeing Machinists entered their second day on strike, some with comfortably padded savings say they are prepared for a long haul while others are wondering how they will pay the bills if they are off the job for long.
For Megan Venables, a clerk at the Everett plant and a 19-year Boeing worker, the strike came as a surprise.
"I didn't really save up for it because I wasn't really expecting such a sad offer," Venables said.
"It was looking so good," she said about the surge in commercial jet orders and employee re-hires since the last contract in 2002.
Venables expects her last paycheck in two weeks and said she will probably start feeling the pinch in a month.
To pay for her car payments, loan payments and mortgage, she said she will probably take out a loan from her Voluntary Investment Plan account, a company investment plan in which employees can invest up to 15 percent of their wages in different investment funds.
She said she hopes to take out no more than $15,000, some of which might go toward out-of-pocket payments to extend her health coverage if the strike continues through Sept. 30, when her coverage runs out.
Venables has diabetes and polyostotic fibrous dysplasia, a disease where abnormally soft bones break easily, and was worried that her health insurance would run out before she could get her next treatment to strengthen her bones.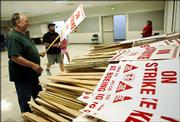 Venables is one of the approximately 18,400 Machinists who walked off the job Friday, after Machinists in the Puget Sound area, Gresham, Ore., and Wichita, Kan., voted overwhelmingly the day before to strike, rejecting a three-year contract proposal and forcing the company to immediately stop making airplanes.
Union leaders have said the contract offer fell short on top issues including pension payments and increased health care costs.
Mike Brown, a tool grinder at the Renton plant, has been saving for years. Brown, a 33-year veteran of the company, said he has been saving money since the last contract three years ago and now has enough money to last him anywhere from six months to a year.
Machinists on strike will receive strike pay of $150 per week starting Sept. 24, said union spokeswoman Connie Kelliher. Job listings are posted in union halls and on the union Web site.
Copyright 2018 The Associated Press. All rights reserved. This material may not be published, broadcast, rewritten or redistributed. We strive to uphold our values for every story published.