Beslan, Russia — Thousands of anguished residents of the small town of Beslan on Saturday marked the anniversary of one of Russia's deadliest terrorist attacks with white doves rising into the air, the tolling of bells, and tears.
Mourners again bid a wrenching farewell to hundreds of adults and children who perished in a storm of gunfire and explosions on Sept. 3, 2004, after enduring nearly three days of thirst, hunger and fear as hostages at Beslan's School No. 1.
A day after a meeting with victims' relatives, President Vladimir Putin ordered a fresh investigation, acknowledging criticism of the authorities' handling of the school seizure by heavily armed militants, the botched rescue and the subsequent inquiry.
On the edge of town, several thousand people poured into the cemetery of polished red granite graves. At 3 p.m., the sea of grieving people listened for nearly 30 minutes as the list of the dead was read aloud.
Then, a wave of sobbing swelled from the crowd as a white sheet was pulled off an 25-foot statue depicting four women holding up a tree of angels.
"After this, what else can I believe in? What else can I see? What can I expect? I don't know what else. I've lost faith," said Sveta Beroyeva, whose 10-year-old twin grandsons, Soslan and Aslan, were killed.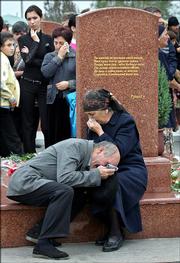 Earlier, Putin opened the weekly meeting of his Security Council with a moment of silence. He then said investigators would be sent to Beslan to verify information he had been given at a Friday meeting with members of a mothers' committee who have demanded that negligent or corrupt officials be prosecuted.
At 1:05 p.m. Saturday, the time of the first explosion that announced the bloody end to the crisis, at least 4,000 people had squeezed into the courtyard outside the Beslan school gymnasium where the victims were held virtually without food and water.
Militants attacked School No. 1 on Sept. 1, 2004 - the first day of school - taking more than 1,100 children, parents and staff hostage and herding them into the gymnasium, which they rigged with explosives. Most of the 331 hostages who died - including 186 children - were killed in the explosions and gunfire that ended the crisis.
The rebels, who were demanding that Russian troops withdraw from the nearby breakaway province of Chechnya, crossed heavily policed territory to reach the school and victims' relatives are convinced they received help from corrupt officials.
Copyright 2017 The Associated Press. All rights reserved. This material may not be published, broadcast, rewritten or redistributed. We strive to uphold our values for every story published.