Norman, Okla. — Walking down the ramp to Oklahoma's football field, defensive coordinator Brent Venables could look over one shoulder and see Dan Cody. Over the other was Tommie Harris, and Derrick Strait was close behind.
A gang of future NFL players, the Oklahoma defenders could puff out their chests and give menacing looks to their opponents' sideliens.
"You almost kind of felt bad sometimes," said Venables, who made the unit into one of the most dominant in the nation.
The Sooners will look quite different when they stride into Memorial Stadium today to play TCU. Cody, Harris and Strait are gone now - along with NFL draft picks Brodney Pool and Lance Mitchell. This Oklahoma defense will be a much younger bunch.
Only two of the players who started in the Orange Bowl are expected to start in the Sooners' season opener, and coach Bob Stoops said at least four freshmen would have an opportunity to play on the defensive side.
Linebackers Curtis Lofton and Ryan Reynolds are the top backups at their positions, and defensive backs Reggie Smith and Nic Harris are in line to play in the Sooners' nickel package.
"All those guys are coming in ready to play at some point," Stoops said.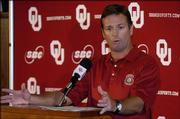 In addition to the talent lost to the NFL the past two seasons, injuries are also a factor.
The Sooners lost their top defensive end, Larry Birdine, for the season to a biceps injury suffered in preseason practice.
Defensive tackle Dusty Dvoracek is recovering from a similar injury from the spring and is expected to play, but not start.
Birdine's injury left some question marks at the defensive end position, where Cody and Jonathan Jackson started all 13 of the team's games last season before departing.
Cody, Jackson and Birdine combined for 25 of Oklahoma's 39 sacks a year ago.
In their places, junior college transfer C.J. Ah You and senior Calvin Thibodeaux, who's returning from a knee injury, are expected to make their first starts at defensive end.
Sophomore John Williams and redshirt freshman Alan Davis will also rotate in.
"Everybody wants to call them a bunch of chumps now," Venables said.
"It's kind of fun. You feel that for them where they've got a lot to prove, and you're right there with them."
Copyright 2018 The Associated Press. All rights reserved. This material may not be published, broadcast, rewritten or redistributed. We strive to uphold our values for every story published.