Cancun, Mexico — Mexicans and stranded tourists, hungry and frustrated after a two-day beating by Hurricane Wilma, stood in line to buy supplies Sunday or simply raided grocery or furniture stores, dragging goods from shops ripped open by the storm.
The hurricane's steady march toward southern Florida meant an end here to two days of howling winds and torrential rains that shattered windows, peeled away roofing and sent the ocean crashing into hotel lobbies. The sun emerged over Mexico's sugar-white Caribbean beaches.
In Cancun, chaos took over, as police shot into the air to scare looters away from a shopping center, and looters responded by throwing rocks and chunks of concrete.
Downtown, officials feared looters would turn on tourists, so they quickly evacuated more than 30 foreigners from a downtown area overrun by people raiding stores. Military officials and police stood guard outside businesses and set up checkpoints to seize stolen goods.
"It's chaos," said fire official Gregorio Vergara. "They are taking things all over the city."
One group of residents pushed carts against the boarded-up windows of a grocery store in an attempt to break in. At a convenience store, Cancun resident Alex Aguilar took batteries and aspirin.
"The window was broken, so we just went in and got what we wanted," he said.
Others waited in long lines at the few stores that were open. Some American tourists without local currency offered $100 bills for $5 calling cards.
Meanwhile, military aid convoys rolled into the resort town, handing out bottled water and medical aid. City officials distributed food packages of rice, beans, crackers and cooking oil to people standing in lines that stretched for blocks.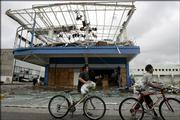 Larry Lowman, of Beaufort, S.C., carried away armloads of emergency supplies for the shelter where he was staying. "It's an expedition to bring food for everybody," he said.
Cozumel isolated
There was little food left on the isolated island of Cozumel, as well, making some people anxious.
"Right now, there is nothing to buy on the island," resident Daniela Ayala told The Associated Press by telephone. "People are in the streets looking for food, and they are starting to get desperate."
The storm knocked out many of the island's docks, making it difficult for navy ships to arrive. State officials were trying to clear airstrips on Cozumel and nearby Isla Mujeres so that planes could land with aid. President Vicente Fox said the government would send helicopters, as well.
Rainfall of up to 15 inches was possible in some parts of Cuba, but Wilma was not expected to make landfall, the U.S. National Hurricane Center said.
President Fidel Castro appeared on a television program to calm Cubans anticipating increased winds and potential overnight flooding on the northern coast.
As the storm crossed the Gulf of Mexico, forecasters said they saw no evidence of wind shear that they hoped would reduce the hurricane's intensity before it makes landfall in southwest Florida.
For those in Mexico who endured two days of Wilma's howling winds and torrential rains, the cleanup began on Sunday. Soldiers used bulldozers to clear tree branches from roads. Residents waded through submerged streets to check damage to homes or try to start flooded cars. Tourists tried to make arrangements to return home.
Dennis Catesby, of Coventry, England, hiked from a downtown shelter back to his hotel room with some friends to raid the minibar of beer and supplies. They decided against staying at the hotel, though, and hiked back to the shelter, stopping only to snap a photo in front of a smashed, roadside Jacuzzi.
"After three days in a shelter, it was minibar time for us," said Catesby, who was married in Cancun on Oct. 17. "The beer is going to be free today."
Cleanup begins
Fox toured damaged areas Sunday and said he would ask lawmakers to budget $1.1 billion in disaster relief funds for 2006, in part to help Mexico recover from Wilma. He said his main priority was rebuilding roads and other infrastructure to revive the country's $11 billion tourism industry, which took a devastating blow.
It was unclear when the Cancun airport would be operating again, and many hotels could take weeks - if not months - to repair.
As Mexico's military sent amphibious vehicles and federal police began arriving to keep the peace, the U.S. Embassy dispatched consular officials to shelters to help tourists prepare to leave. The U.S. government also offered $200,000 in aid.
In Florida, meanwhile, residents streamed out of the Keys and coastal communities under mandatory evacuation orders after officials posted a hurricane warning for the southern part of the state. The Bahamas also issued a hurricane warning for the northwestern part of the country.
Record season
Also Sunday, the Dominican Republic and Haiti received heavy rains when Tropical Storm Alpha made landfall, then later weakened into a tropical depression. Days of rain from Wilma had already swollen rivers and saturated the soil in the countries, prompting concerns about flash floods and mudslides.
Officials used the Greek alphabet to name Alpha - the record-setting 22nd named storm of the Atlantic season - after running all the way through the 2005 storm name list. The hurricane season ends next month.
Copyright 2017 The Associated Press. All rights reserved. This material may not be published, broadcast, rewritten or redistributed. We strive to uphold our values for every story published.