Philadelphia — A big play from their much-maligned special teams saved the Philadelphia Eagles on a day their once-potent offense was ordinary again.
Quintin Mikell blocked a field goal, and Matt Ware returned it 65 yards for a touchdown with 2:25 left, leading the Eagles to a 20-17 victory Sunday over the San Diego Chargers.
"All year, we've had some bad breaks on special teams and some silly mistakes. But to come out and put it all together and make a play was great," Mikell said.
In a strange game that featured a ton of flags, including several that weren't penalties, the stadium's fire alarm went off late and fans were asked to leave. Very few complied, and there was no delay. The sirens were set off accidentally, team officials said.
LaDainian Tomlinson was held to a career-low seven yards rushing on 17 carries, and his NFL-record tying streak of games scoring a touchdown ended at 18.
Drew Brees rallied the Chargers from a 10-0 deficit with a pair of TD passes, but San Diego couldn't put the game away after the Eagles failed to convert a fourth-and-one at their own 30 late.
Mikell leaped to swat away Nate Kaeding's 40-yard attempt, Ware picked it up after one bounce and raced into the end zone.
"Usually it takes a funky bounce after a block, but this one came right up and it was, 'Whoa, Look at this!"' Ware said. "I said, 'This is it,' and started running. You know, high knees and pumping arms, and the guys were blocking for me. It's been since high school that I scored a TD. I saw the fans down in that end zone going crazy, and they were getting closer and closer and the people were getting bigger."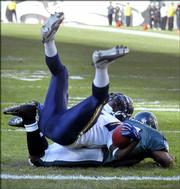 The Chargers drove to Philadelphia's 19 on the ensuing possession, but Sheldon Brown stripped Reche Caldwell, and Darwin Walker recovered.
Donovan McNabb set an Eagles record with 35 completions in 54 attempts for 287 yards and one TD pass, and Terrell Owens caught his 100th career TD pass as Philadelphia improved to 4-2.
McNabb, playing through a sports hernia that will require surgery, broke Randall Cunningham's record of 34 completions against Washington in 1989 as the Eagles' offense had just 10 rushing attempts, excluding McNabb's scrambles and kneel-downs. Philly has one TD on offense the last two games.
In his worst game as a pro, Tomlinson, who came in with 652 yards rushing and 13 TDs combined, lost yards on each of his first four carries and didn't have positive yards until the fourth quarter. He shares the NFL record for consecutive games scoring touchdowns with Baltimore's Lenny Moore, who scored in 18 straight from 1963-65.
"It's not so much a disappointment," Tomlinson said. "I've had a great run at it."
Raiders 38, Bills 17
Oakland, Calif. - LaMont Jordan ran for 122 yards and a career-high three touchdowns, and Randy Moss added a 22-yard TD catch.
"Those are the runs I've been waiting for all year," Jordan said. "It means a lot to me. I'm a competitor."
Kerry Collins, sacked on Oakland's opening drive and booed afterward, completed nine of 10 passes on consecutive touchdown drives late in the second quarter and early in the third for the Raiders (2-4). He finished 19-for-27 for 261 yards to help Oakland score more than 20 points for the first time all season.
Steelers 27, Bengals 13
Cincinnati - Ben Roethlisberger threw two touchdown passes in his return from a knee injury, and the Steelers (4-2) dominated the second half in front of a Cincinnati-record crowd of 66,104, setting a franchise record with their 10th straight road victory. Willie Parker's 39-yard touchdown run highlighted a 221-yard performance by Pittsburgh's running game on the rainy day. Parker ran for 131 yards overall, and injury-slowed Jerome Bettis added 56 yards.
Roethlisberger was 9-of-14 for 93 yards and threw his first interception of the season. Carson Palmer was 21-of-36 for 227 yards and two interceptions for the Bengals (5-2).
Seahawks 13, Cowboys 10
Seattle - Jordan Babineaux intercepted Drew Bledsoe's sideline pass with five seconds left, and Josh Brown kicked a 50-yard field goal as time expired to give the Seahawks a stunning victory. The Seahawks tied it with 40 seconds left on Matt Hasselbeck's one-yard TD pass to tight end Ryan Hannam. Seattle (5-2) then won on Brown's long kick after Babineaux intercepted the pass intended for Terry Glenn and returned it 25 yards.
Cardinals 20, Titans 10
Tempe, Ariz. - Josh McCown threw a 34-yard touchdown pass to Larry Fitzgerald with 5:20 remaining, lifting Arizona. Neil Rackers kicked field goals of 33 and 24 yards to improve to 20-for-20 this season for the Cardinals (2-4), who trailed, 10-0, in the first quarter.
Giants 24, Broncos 23
East Rutherford, N.J. - Eli Manning threw a two-yard touchdown pass to Amani Toomer with five seconds left, lifting New York. Manning finished 23-of-42 for 214 yards and two touchdowns for the Giants (4-2), who trailed from midway through the second quarter until the final drive. Manning also connected with Plaxico Burress on a first-quarter scoring play.
Jake Plummer finished 18-of-29 for 194 yards and one touchdown, and Jason Elam kicked three field goals for the Broncos (5-2). But Elam missed a 49-yarder with 5:18 left after New York's Tiki Barber scored on a four-yard run to make it 23-17.
Vikings 23, Packers 20
Minneapolis - Paul Edinger kicked a franchise-record 56-yard field goal as time ran out, lifting momentum-starved Minnesota. After losing their last two games by a combined 58-13 score and allegations of sexual misconduct by several players on a boat party emerging, the Vikings (2-4) trailed 17-0 in the third quarter and appeared headed for another ugly defeat.
But Daunte Culpepper, who went 23-for-31 for 280 yards and two TDs with no interceptions, came to life - and Edinger made his third field goal of the game. Brett Favre played a near-flawless first half but couldn't rally Green Bay (1-5), finishing 28-for-36 for 315 yards and two scores.
Colts 38, Texans 20
Houston - Peyton Manning was 21-of-27 for 237 yards and two touchdowns, and Edgerrin James ran for 139 yards and two touchdowns to held Indianapolis improve to 7-0 for the first time in franchise history.
Redskins 52, 49ers 17
Landover, Md. - Mark Brunell completed 13 of 20 passes for 252 yards and three touchdowns, and Washington (4-2) piled up 448 yards and scored on seven of its first nine possessions to snap a two-game losing streak. Clinton Portis ran 19 times for 101 yards and three touchdowns, Mike Sellers caught scoring passes of two and 19 yards, and Santana Moss had a 32-yard TD reception and finished with five catches for 112 yards, his fourth 100-yard game in five weeks.
Rams 28, Saints 17
St. Louis - Steven Jackson had a pair of short scoring runs, and Kevin Curtis scored the go-ahead touchdown on a five-yard reverse with 5:58 to go for the Rams (3-4). Jamie Martin, subbing for the injured Marc Bulger, hit Curtis for a 42-yard gain to the six to set up the winning score and then led the blocking on Curtis' clinching score after the wide receiver took a handoff from Jackson.
Mike Furrey's 67-yard interception return with 1:55 to go wrapped it up for the Rams, who ended a three-game losing streak.
Lions 13, Browns 10
Cleveland - Jeff Garcia, kicked out of Cleveland after one tumultuous season, ran for a touchdown, and Jason Hanson kicked two field goals to lead Detroit (3-3). Garcia, making his first start this season in place of Joey Harrington, was 22-of-34 for 210 yards and didn't turn the ball over. Garcia missed Detroit's first five games because of a broken left leg. Cleveland (2-4) scored on rookie Joshua Cribbs' 90-yard kickoff return.
Bears 10, Ravens 6
Chicago - Kyle Orton threw a first-quarter touchdown pass to Marc Edwards, and Thomas Jones ran for 83 of his 139 yards in the final period for Chicago (3-3). Baltimore (2-4) got only 34 yards rushing from Jamal Lewis on 15 carries.
Copyright 2018 The Associated Press. All rights reserved. This material may not be published, broadcast, rewritten or redistributed. We strive to uphold our values for every story published.