Leigh McHatton is headed down the long road toward recovery.
The 24-year-old Lawrence woman suffered third-degree burns to her hands and feet when she ran through flames while escaping the Oct. 7 fire that destroyed her apartment building at Boardwalk Apartments in the 500 block of Fireside Drive.
McHatton, who also suffered some burns to her face, was taken to the burn unit at University of Kansas Hospital, where she underwent skin grafts.
"They (doctors) said it would probably be up to two months before I gain some sense of normalcy," McHatton, now recuperating at her parents' home in western Kansas, said Wednesday during a telephone interview. "Even a year from now I'll have to be careful about being out in the sun and things such as that."
The fire killed three people and injured about 20 people. The first report of the fire was made to 911 emergency operators at 1:19 a.m.
McHatton doesn't know how long the fire had been burning when she woke up on the couch of her second-floor apartment.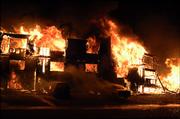 "I could hear the fire; I could feel the heat from it, and there was smoke coming through the door," McHatton said.
When she opened the door she saw flames and smoke. She put on a sweatshirt and other clothes, grabbed a blanket and ran out onto the boardwalk and down the stairway. The stairway was engulfed in flames and that was where she was burned. She rolled along the concrete at the lower level of the building to put out the flames that were on her clothes and blanket.
McHatton made her way to the parking lot behind the burning building, where she tried to help someone get one of several ladders that had been used for recent maintenance work. The ladders, however, had been chained to a telephone pole, she said.
McHatton said she then tried to help people who were jumping out of the upper-floor windows.
"By then I was so weak," she said. "I was in a fair amount of pain from my own burns."
McHatton remembers a man picking her up and carrying her to the front of the building, where a police officer took her across the street and stayed with her until she could get medical help.
Photo Gallery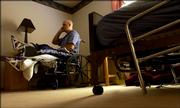 After the fire at Boardwalk Apartments
McHatton, a part-time employee at Cottonwood Inc., 2801 W. 31st St., lost all of her belongings in the fire. She doesn't have medical insurance. Her co-workers have organized a fundraiser in conjunction with Lawrence Pizza Hut restaurants to help her with expenses.
On Nov. 13-15, the Pizza Huts at 934 Mass., 4651 W. Sixth St. and 600 W. 23rd St., will donate a portion of their proceeds to the fundraiser. Other types of fundraisers may be held later.
McHatton said she was doing as well as can be expected. She said she is able to walk while wearing special support boots.
A few days after the fire, one of the residents of the burned apartment building, Jason Allen Rose, 20, was arrested and charged with aggravated arson and three counts of first-degree murder. McHatton said she didn't know Rose.
Boardwalk Apartments Fire
More on the Boardwalk Apartments Fire
Copyright 2017 The Lawrence Journal-World. All rights reserved. This material may not be published, broadcast, rewritten or redistributed. We strive to uphold our values for every story published.