Detroit — General Motors Corp., under pressure to turn around its business after losing nearly $3 billion in the first nine months of the year, announced a tentative agreement Monday with the United Auto Workers that will help lower its staggering health care costs.
GM, the world's largest automaker, said it lost $1.6 billion in the third quarter, or $2.89 per share, compared to a profit of $315 million, or 56 cents a share, a year ago, as it felt the effects of declining sport utility vehicle sales. The loss included charges of $861 million for restructuring and lower asset values in North America and Europe.
GM shares rose $2.11, or 7.5 percent, to close at $30.09 Monday on the New York Stock Ex-change. They have traded in a 52-week range of $24.67 to $42.22.
John Devine, GM vice chairman and chief financial officer, said the tentative agreement on health care would reduce GM's retiree health care liabilities by about 25 percent, or $15 billion, during a seven-year period. It would cut GM's annual employee health care expenses by about $3 billion on a pretax basis. Cash savings are estimated around $1 billion a year.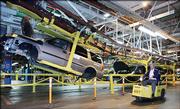 Himanshu Patel, an auto analyst with JPMorgan Chase & Co., said the agreement would make a substantial dent in GM's $80 billion health care liability. But other analysts said the cuts may not stave off the red ink for very long, especially since GM could be liable for billions in benefits at parts supplier Delphi Corp., which has filed for bankruptcy protection.
"These savings are a clear positive, but retiree liability cuts are likely to see some almost immediate offsets, from ongoing health care inflation, possible Delphi liability assumption and falling long-term rates," Goldman Sachs analyst Robert Barry said.
GM Chairman and CEO Rick Wagoner said the agreement marked the largest reduction GM has announced in a single day. GM had asked the UAW to help it lower its health care costs before its contract with the union expires in 2007, and both parties have been negotiating since the spring.
Wagoner refused to say whether GM would have unilaterally lowered retiree benefits if the UAW hadn't agreed to the concessions by Monday, although he has said in the past the company had that option.
"These negotiations were done in a positive, cooperative, problem-solving spirit," Wagoner told employees at GM headquarters in Detroit. "While it may have taken some time to reach this cooperative solution, I think it was time well spent."
The UAW had no comment Monday. Art Luna, president of UAW Local 602 in Lansing, said he expected to meet with UAW leadership later this week.
Copyright 2018 The Associated Press. All rights reserved. This material may not be published, broadcast, rewritten or redistributed. We strive to uphold our values for every story published.