Osseo, Wis. — A bus carrying high school students home from a band competition crashed into a tractor-trailer that had jackknifed on the interstate early Sunday, killing four adults and an 11-year-old girl, officials said.
Twenty-nine others were injured, some seriously, troopers said.
"It's a terrific tragedy and loss to our school and community," said Chippewa Falls schools superintendent Mike Schoch. "Our community is stunned by it."
The semi had gone off the shoulder of Interstate 94 and jackknifed, and was blocking the westbound lane, Wisconsin State Patrol Capt. Douglas Notbohm said.
"I don't know how much opportunity there was for braking action," he said.
The bus slammed into the overturned truck, but it didn't roll or catch fire, patrol spokesman Brent Pickard said.
It was the first of four buses carrying about 140 students and 15 to 20 adult chaperones, Schoch said.
Tania Richter, 17, a clarinet player in the band, said she was sleeping on the floor toward the back of the bus when it crashed. The impact sent her sliding under a seat.
"It was terrifying," she said, her right arm in the sling because of what she said was a shoulder bruise.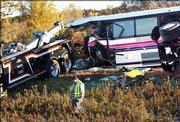 Nearly everyone was sleeping at the time, she said, but at least the bus wasn't full. Most of the windows were knocked out in the crash.
"We had a lot of seats open, which saved a lot of people," she said.
Bus driver Paul Rasmus, 78, of Chippewa Falls, was killed. The identities of the other victims - two men, ages 48 and 24, a 51-year-old woman and the girl - were withheld pending notification of their families.
The semi driver, employed by Whole Foods Market Group of Munster, Ind., was en route from Indiana to Minnesota, Notbohm said. The driver was hospitalized with non-life threatening injuries.
Officials didn't know why the truck went off the interstate and overturned. The driver told investigators he had not fallen asleep, Notbohm said, and Pickard said the road was dry at the time of the crash.
The National Transportation Safety Board is investigating.
The students were returning from band competition at the University of Wisconsin-Whitewater, about 200 miles southeast of Chippewa Falls. The band had placed third in Class AAAA competition in the Wisconsin School Music Association State Marching Band Championships.
Chippewa Falls High School, which has about 1,500 students, was opened Sunday for those who wanted to meet with counselors, Schoch said. The school's principal, Jim Sauter, said classes would be held Monday.
Copyright 2018 The Associated Press. All rights reserved. This material may not be published, broadcast, rewritten or redistributed. We strive to uphold our values for every story published.