Kabul, Afghanistan — Election authorities said Sunday that they have fired about 50 employees for suspected fraud in last month's legislative polls, while human rights advocates warned that about half of the winning candidates are believed to have links to armed groups.
The latest fighting, meanwhile, left eight insurgents dead and two British warplanes damaged.
The suspected election fraud cast a shadow on Afghanistan's latest step toward democracy. About 680 ballot boxes, or 3 percent of the vote, were taken out of the counting process because of suspicions they were stuffed, said Richard Atwood, chief of operations for the joint U.N.-Afghan election commission.
But he ruled out a recount, saying the suspected fraud "does not affect the integrity of the election."
"The fraud is not systematic or widespread across the country," Atwood said. Election organizers have "done all we can to ensure this fraud is caught," he said.
He said about 50 people had been fired for suspected cheating, but did not elaborate.
Atwood said investigations into fraud allegations have slowed vote tallying. Almost a month after the Sept. 18 elections, provisional results have been published in only 20 of the 34 provinces.
Accusations of irregularities also have sparked demonstrations. Hundreds rallied Sunday in various towns, including in the southern city of Kandahar, where protesters threw stones at an election office.
"These elections no longer have any meaning. So many bribes have been given," said Bashir Bezhen, an official with the state Ariana airlines who was defeated in his run as an independent candidate in Kabul.
"The counters were shameless in their work. They were like businessmen, making deals with whoever had money. There should be a recount."
Among the provisional winners is Yunus Qanooni, a candidate in Kabul who is billed as President Hamid Karzai's main rival.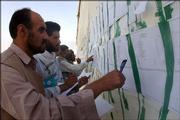 Also listed as a winner is Abdul Rasul Sayyaf, another Kabul candidate and a powerful militia leader named by New York-based Human Rights Watch for alleged war crimes. Other winning candidates accused of abuses by the group are Mullah Taj Mohammed in Kabul and Mohammed Ali Javeed in northern Balkh province.
"Around half of the winners have links to armed groups," said Ahmad Fahim Hakim, deputy chairman of the state-sponsored Afghan Independent Human Rights Commission. "Some are notorious warlords."
Electoral law barred anyone with links to armed groups from competing. But with nearly 2,800 candidates, activists say many of the warlords involved in the bloodshed of the past quarter-century slipped through a U.N.-backed review.
At least two former members of the Taliban have been elected. One is Abdul Salaam Rocketi, a front-line general who spent eight months in U.S. detention and now actively encourages other Taliban members to reconcile with the government.
Another is Mawlawi Mohammed Islam Mohammadi, who was the governor of Bamiyan province in 2001 when the Taliban blew up two giant 1,500-year-old Buddha statues there, deeming them an affront to Islam.
The latest fighting with holdouts from the former regime erupted in Spin Boldak district, near the Pakistani border, leaving eight suspected rebels dead, said Gen. Mohammed Zahir Azimi, spokesman for the Afghan Defense Ministry.
The damaged British warplanes were parked on the tarmac at the main U.S.-led coalition base in southern Afghanistan when a rocket attack showered them with shrapnel, but wounded no one, said a U.S. military spokeswoman, Sgt. Marina Evans.
Copyright 2018 The Associated Press. All rights reserved. This material may not be published, broadcast, rewritten or redistributed. We strive to uphold our values for every story published.