Beijing — Two astronauts on China's second manned space flight landed before dawn Monday, shown live on state television as they emerged from their capsule smiling and waving at the end of a five-day mission meant to burnish China's global standing and rouse public support for its communist leaders.
Astronauts Fei Junlong and Nie Haisheng were "in good health" after the Shenzhou 6 capsule touched down by parachute at 4:32 a.m. local time in China's northern grasslands, just a half-mile from its target, the official Xinhua News Agency said. They were met by crews who rushed to the site in helicopters and off-road vehicles.
State television showed the astronauts climbing out of their kettle-shaped capsule with the help of two technicians and clambering down a ladder in the predawn darkness. They smiled, waved to cheering members of the ground crew, accepted bouquets of flowers and sat in a pair of metal chairs beside the capsule.
"I want to thank the people for their love and care. Thank you very much," Fei said.
Fei and Nie blasted off Wednesday from a base in China's desert northwest, almost exactly two years after the first Chinese manned space flight made this only the third country to send a human into orbit on its own, after Russia and the United States.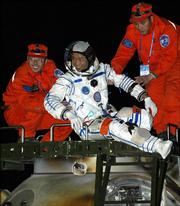 In contrast to this week's mission, China's first manned space mission was shrouded in secrecy, with none of it broadcast live, a decision that blunted the effort's propaganda value.
Communist leaders apparently hope the greater openness will stir patriotic pride, shoring up their standing at a time of public frustration at corruption, wrenching economic change and a growing gap between the country's rich and poor.
State media showed playful scenes of Fei and Nie in orbit, turning somersaults and setting morsels of food floating in zero gravity.
On Monday, state television showed technicians at the Beijing control center, once a closely guarded secret. The technicians displayed no reaction when an announcer said the capsule had landed but broke into cheers after word came that the astronauts were safe.
The two astronauts are both military men, former fight pilots and Communist Party members.
Copyright 2018 The Associated Press. All rights reserved. This material may not be published, broadcast, rewritten or redistributed. We strive to uphold our values for every story published.